A Portuguese colony for over 450 years, Daman, along with its counterpart Diu became a part of the Indian Union in 1961. But unlike Diu, Daman is less-touristy except for the Mumbai and Gujarati crowd seen during weekends. One factor that makes Daman touristy is the cheap availability of alcohol. But thankfully, there aren't any major safety concerns or precautions that you need to take even when you're travelling alone to this lazy town lying alongside the Arabian Sea.
Surrounded by Gujarat and Maharashtra, Daman is divided by Daman Ganga River into Nani Daman and Moti Daman. Along with the Portugese and Roman Catholic cultures, this unhurried coastal town also possess a bit of Gujarati culture.
Devka Beach, The Black Beauty.
While reaching in an auto rickshaw from Vapi station, Devka beach in Nani Daman still seemed to be sleeping. Except for a few women sweepers cleaning the park (previously Devka Amusement Park) situated on the beach, no one could be seen around. From what I could see as an entrance, I stepped on the black sand of the widespread beach.
An entirely different beach from the ones I've seen to date, Devka was a black beauty covered in shades of black sand as well as gravel. Now let me tell this without any exaggerations whatsoever – if I'm to take a picture, with the muted sky colors of early morning and overall appearance, it'll look more like a black and white image.
Without anyone around, the milieu was serene and the whole stretch was almost clean. There was a dog who posed for me unhesitatingly under the beautiful morning light falling unevenly through those several gap in trees; and apart from that, Devka seemed more like a private beach for us.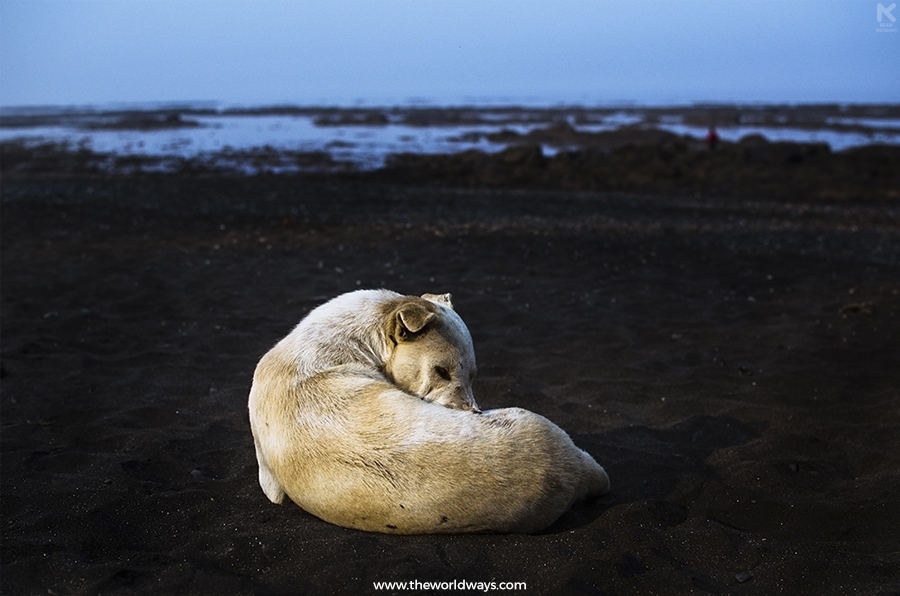 With no waves, the sea which could be seen ahead was calm and the rocks by the shore were all swept in a mixture of moss and sludge. Maybe it's the time of the year/my arrival, but a beach covered in black sand with gentle waves seen far from where I stood was completely new to me.
Devka is mostly noted as a rather untidy beach among tourists and travelers, but from my experience, I liked this black beauty. And as I always say, mornings at a beach are often underrated.
St. Jerome Fort, Nani Daman
Looking ruined from outside, the fort has a Church, High School and even a cemetery in its close proximity! The premises was deserted and the only satisfying thing was the top angle view of the pretty busy Nani Daman port combined with a distant view of Moti Daman and its Light House.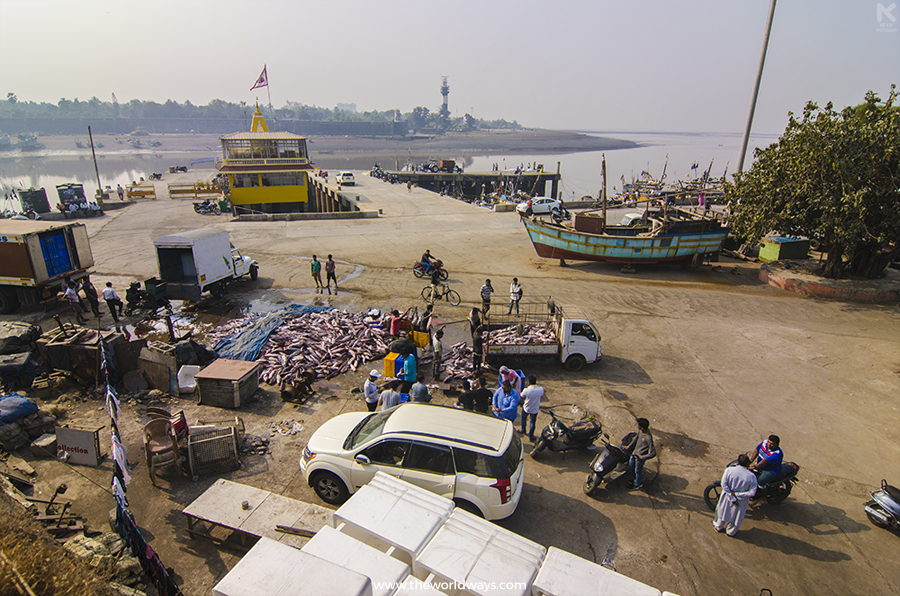 Inside the Fort of Moti Daman
Situated parallel to Nani Damn, Moti Daman houses a much bigger fort with 2 primary entrances comprising all major offices in the locality – including schools, court and government offices.
We preferred to walk to Moti Daman by taking a road adjacent to the Fire Station followed by crossing a bridge which was being built – the featured image was shot from the bridge. Alternatively if you're traversing by road, take the 3km (approx.) road to reach the Fort Garden entrance which is on the other side of the Fort.
Our plan in Moti Daman was to visit the Basilica of Bom Jesus, Light House and be either at Jampore Beach for Sunset or sail in a hired boat between Moti Daman and Nani Daman.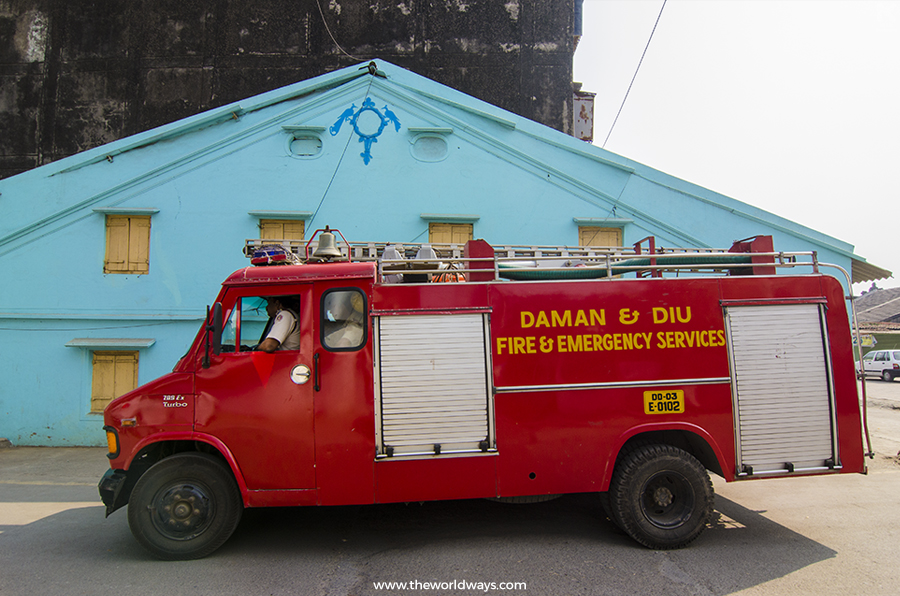 Standing as a testimony to the land's Portugese culture, the Basilica of Bom Jesus has a wooden-carved door to welcome you to its silent ambiance.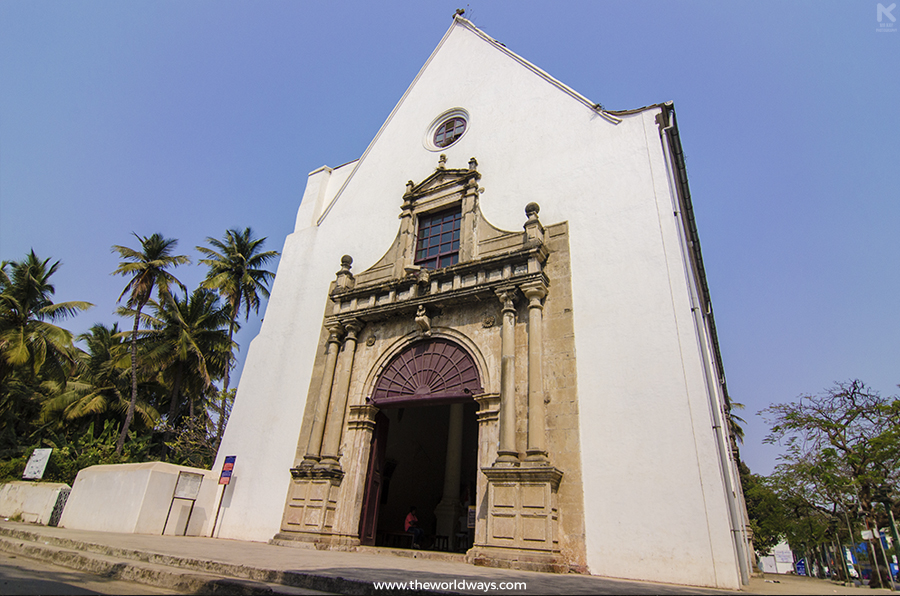 Roaming pretty aimlessly through the roads, we realized that there isn't much to see around inside the Fort. According to our plan, next up on our list was the lighthouse. But soon, we realized it's a good spot only to catch a view of the day's setting Sun.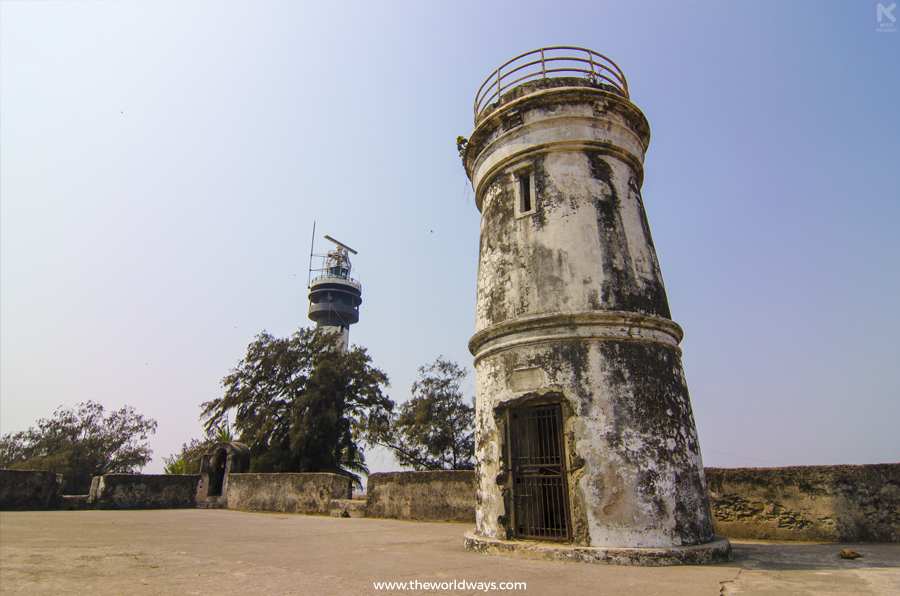 By then, it had gotten to be tiring and boring at the same time. So we, after a few rounds of discussion, chucked our plan to stay until evening and returned to Mumbai after having lunch from Vapi.
P.S. – Since there wasn't much to see around in Daman, upon seeing a map of Daman near the Basilica plotted on a huge board, we had even thought of visiting Dadra and Nagar Haveli (Silvassa) which was only around 32 kms, but if we were to accommodate that too in our plan, it might be too tiring and we won't be able to get back before midnight.
*****
WHETHER YOU SHOULD GO
If you're in Mumbai or Gujarat, and if Daman is around a 150 kilometers from your place, go.
If you're looking options for a very lazed out weekend, with a beer in hand, or planning for a road trip with friends, go.
HOW TO REACH
Rail – Vapi is the nearest railway station, and is the cheapest and fastest option – so get down there and hire a shared auto or taxi (the good old ambassadors) to Daman (12 kms) for Rs. 30/head.
Road – Daman is around 190 kms from Mumbai, and takes about 4-5 hours to reach via NH48.
Once in Daman, you can either traverse by foot or hire an auto rickshaw to see around.
Probably by now, the bridge must be built, so you can escape the hassle of traveling to the other 'Daman' through the 3km long road.
WHERE TO EAT
As from the articles I've read online, Madras Cafe at Nani Daman is a nice restaurant, but since it wasn't open, we had Vada Pav and Bhajiya from a street shop for breakfast.
Although the food served was not South Indian, the hotel from where we had lunch at Vapi was run by a Malayali. And for obvious reasons, it reminded me of the saying – wherever you go, there will be a Malayali (read – a malayali tea stall). 
(Visited 1,034 times, 1 visits today)