Despite the fact that I've been travelling for nearly 3 years now, I still find myself standing confused when it comes to packing for a trip. Whether it's for a weekend trip or a week's trip, or longer ones, I tend to pack a tad more than what I basically need and end up using only a few among them. Having said that, I do have a basic list of items and no matter what, I carry them almost everywhere I go. The items that go into my bag(s) also vary depending upon the number of days as well as on the terrain and climate.
So, below is the list of items I tend to carry while travelling. Regardless of how frequent you travel, I hope this comes handy to you too.
---
The Essentials – No Matter Where I Go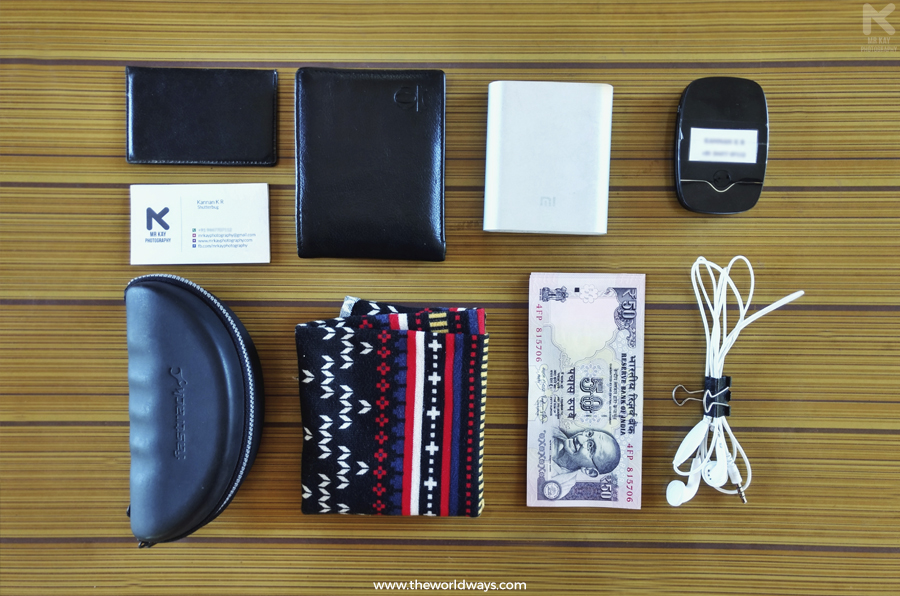 Wallet and some extra money as liquid cash. Also, ATM/Debit Card(s).
ID cards – driving license and an address proof along with their photocopies for hotel accommodation and things as such.
Business Cards – I keep this in my wallet and ATM card holder for recovery purposes if at all it reaches a good soul once lost.
Power Bank – I currently use the 10000mAh Power Bank from Xiaomi. Update: Bought an Anker Powercore.
Mobile Charger – a turbo charger that's very useful while travelling. Update: Bought a 6ft long charging cable from MIVI.
Reliance Jio Wifi Device – a recent addition to this list which I plan to use until March 2017. After that, depending upon their monthly tariff, I will decide whether to use it further or not.
Sunglasses – this again, is a recent addition (a birthday gift from Arya) and I really love the comfort it gives while I'm out on a sunny day.
Earphones – because music is always a trustable travel companion.
Maybe, check Songs for a Travelling Soul? I'll probably try to write another version of this soon. Hmmph.
Buff headwear – prevents head from sweating to a great extent. Update: Bought a Cap from Decathlon.
---
Clothing & Footwear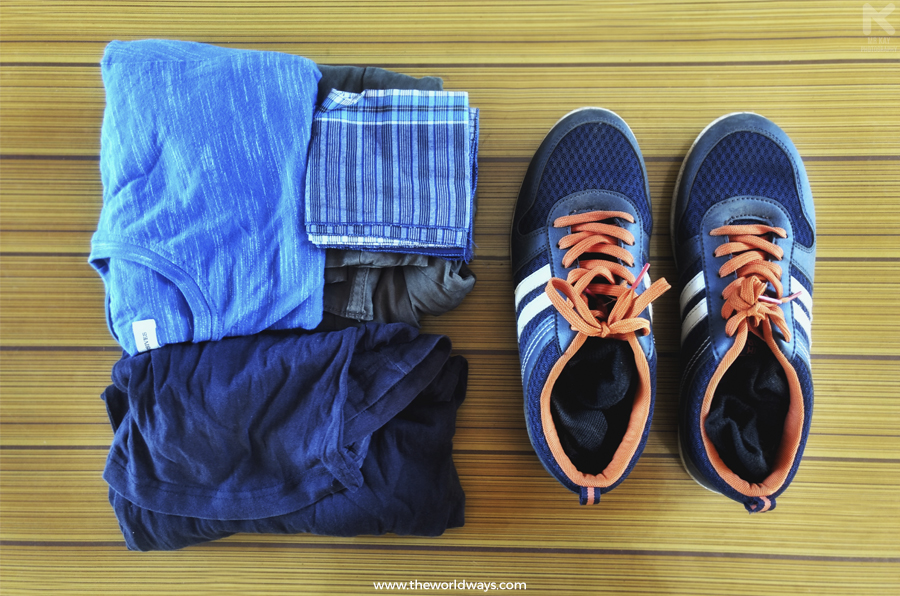 An extra pair of jeans and t-shirt I carry to almost anywhere I go – because you know, it's better to be prepared for the unexpected.
Depending upon the number of days, I pack between 2 to 4 t-shirts, 1 to 2 shirts and as mentioned above, one extra pair of jeans. I take one more pair if it's a longer trip or if not, a pair of shorts which also doubles up as a nightwear.
A pair of lightweight track pants.
Underwears – anywhere between 2 to 5 depending on the number of days.
Handkerchief(s) and a bathing towel.
Flip flops or sandals. Men's trainers or Quechua Arpenaz 100 Mid Men Hiking Shoes along with a pair of socks.
My selection from these completely depend upon the terrain.
---
Camera Gear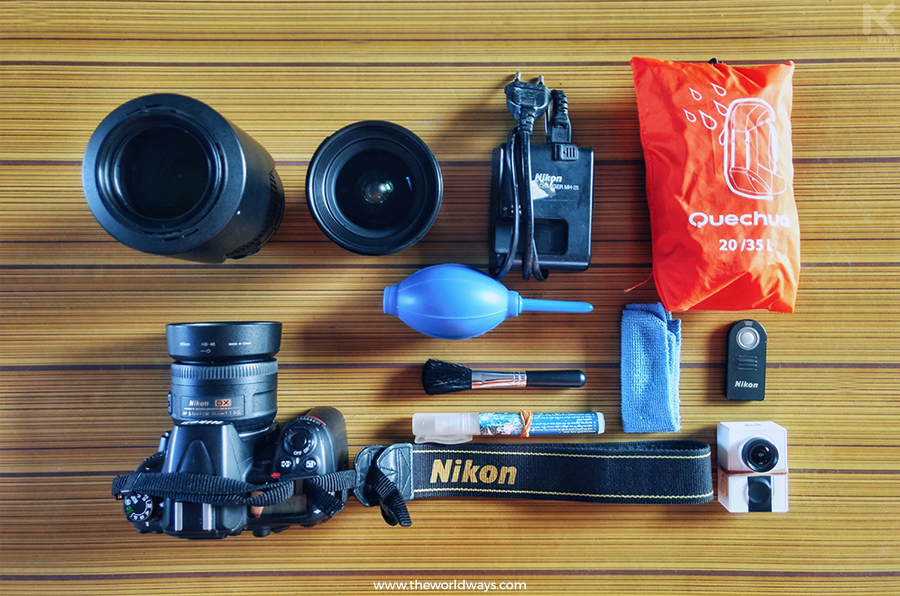 ---
Toiletries, Medicines & Others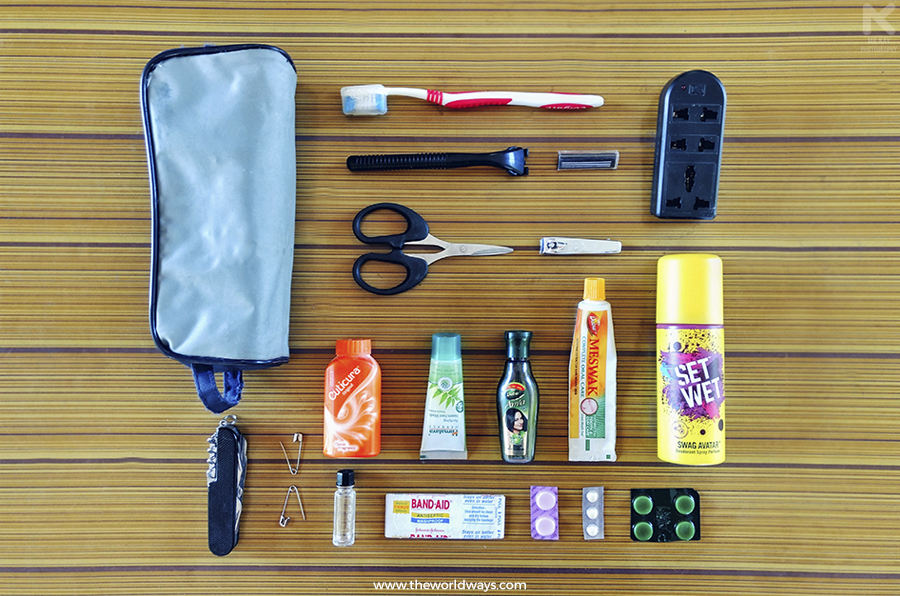 Paracetamol – fever, Sudin – cold, Domstal – vomiting, Cyclopam – stomach Ache, Axe Oil – headache/pain relief and a couple of band-aids.
Toothbrush and toothpaste.
Hair oil and talcum powder – since I've got a pretty oily face most times.
A small tube of face wash – I used to carry a bath soap, but I've recently found that carrying something which you can put back in your pouch without having to worry is much more convenient.
A cheap, yet good quality swiss knife, nail clippers as well as scissors.
A universal multi pin.
Deodorant.
Shaving Razor – if it's a month long trip.
Tissue papers.
---
Rucksacks, Daypack & Camera Backpack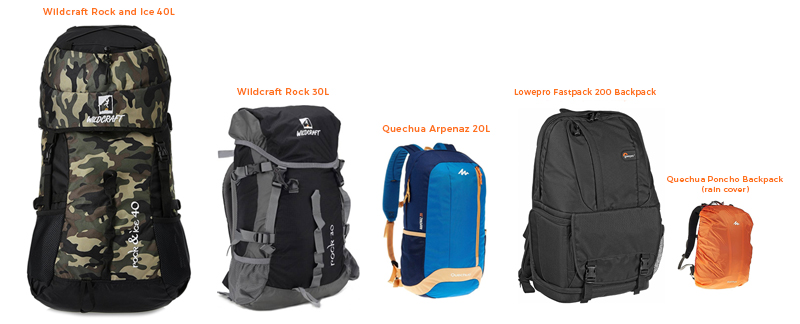 Wildcraft Rock and Ice 40L – a month or longer trips.
A gift from Prithvi Raj before the Himachal trip.
Wildcraft Rock 30 L – 5-10 day long trips.
Quechua Arpenaz 20L – day trips or the ones ranging between 2-4 days.
Lowepro Fastpack 200 Backpack along with a Quechua Poncho Backpack (rain cover).
*****
As far as most of your packing goes, this will probably be a very minimal one; but that's how I'd like to keep it. If you're somewhat on the same page but lazy to make a definitive checklist, have a rundown of this article before packing for your next trip. Well, I know this is a man's check-list, but with a few tweaks here and there, this can easily be converted according to a woman's preferences.
(Visited 475 times, 3 visits today)