A hamlet in the Kerala backwaters, Kakkathuruthu was resting untouched by the outside world until it got featured in National Geographic's Around the World in 24 Hours, a photo tour for the adventurous traveler who never stops. The list starts from Hawai'i Volcanoes National Park at 5:00 and ends at 4:00 in a lakeside retreat at Northern Ireland after leaving its mark at 18:00 in this secluded island.
KAKKATHURUTHU, THE ISLAND OF CROWS
As the name implies, this land might have gotten its name by being a haven to crows. When George W. Stone, the current Editor-in-Chief at National Geographic Travel visited this island, he found it to be one of the best places to catch the glimpse of a day's setting Sun. Having said that, I still wonder how he got to know about this least known place.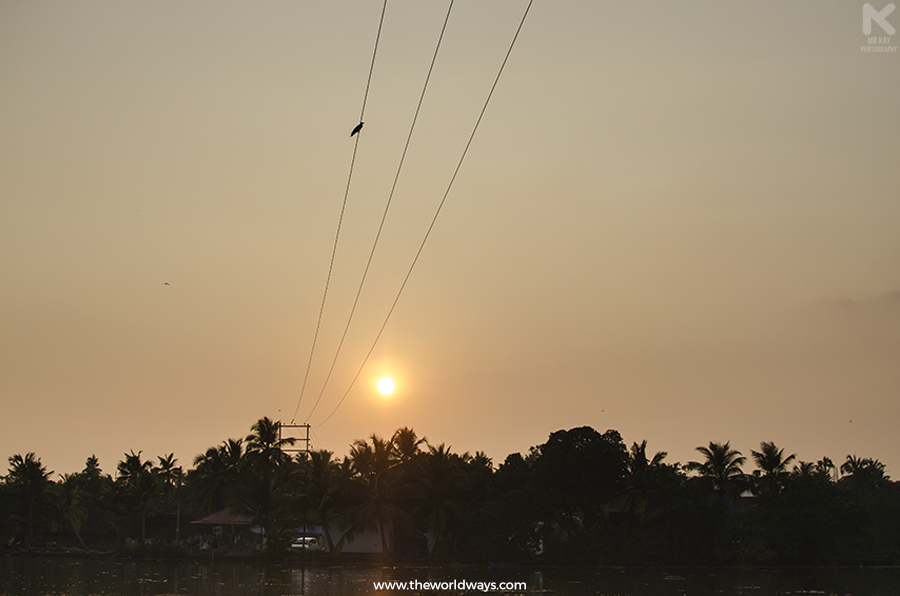 Located in the Alappuzha district of Kerala, Kakkathuruthu isn't far from Queen of the Arabian Sea, Kochi. This tiny island is surrounded by the Vembanad lake and is home to less than 400 families with a population of around 1000. For them, the only way to reach the outside world is by means of a traditional row-boat that operates between 6:00 to 21:00 – more details about this can be found in the How To Reach and Useful Info sections towards the end of this article.
SEEING THE SUNSET FROM THE NATGEO RECOMMENDED SPOT
While myself and Rishikesh reached the jetty half an hour before Sunset, a completely occupied boat was all set to leave the shore. But soon after it left, we boarded another one along with a lady and her two daughters and were paddled to our destination.
The Sun, as a big red circle was seen just above the coconut trees across the waterbody we had just crossed. After taking a few shots from the jetty itself, as suggested by the natives, we got to the premises of a nearby seen house to get a better view. We had to fasten our steps as the Sun kept hurrying down with each passing minute. In fact, since the view gets covered by those trees standing across the river, even though the Sunset hasn't occurred, you won't be able to see the Sun after a certain point.
As we sat in another boat to the mainland, the Sun was nowhere to be seen, but the twilight still looked beautiful with crows flying far in the sky.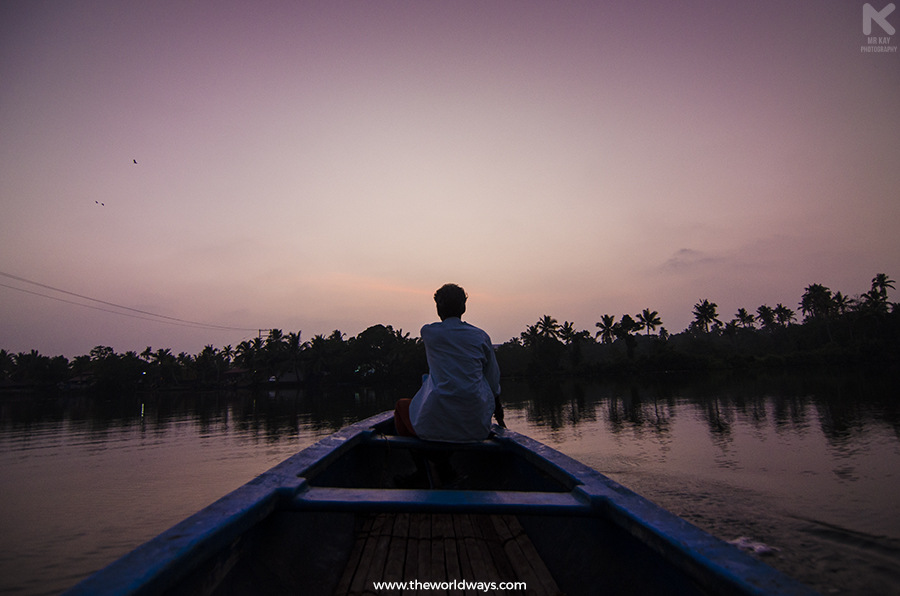 HOW TO REACH
If you're coming from Ernakulam/Kochi side, head towards Alappuzha through NH66 and take left just before Moham Hospital. See map.
People who are coming from Trivandrum/Alappuzha/Kottayam side shall reach Thuravoor Junction and proceed to Kochi through NH66. Then, take the right turn immediately after Moham Hospital. See map.
For those who're opting public transport, Eramalloor is the nearest bus stop while coming from Aroor and Kuthiathode is the nearest while coming from Thuravoor.
USEFUL INFO
Sunrise is also said to be good in here, but since the boat service starts only at 6:00, the chances to be there for Sunrise are really less.
Both of the boatmen who took us across didn't ask for an exact fare when asked, but we paid them Rs. 10/- per head.
I saw a resort on our way to the Sunset spot; but as this secluded island gets more footfall, I really hope to see a responsible tourism.
(Visited 1,143 times, 1 visits today)