While arriving at Kasaragod during the early hours of Saturday morning, which was also the last day in 2016, we were still 3 hours away from meeting our friends who were on their way from Bangalore. As usual, our plan was to be at a new place for New Year and this time, we picked Ranipuram, also known as the Ooty of Kerala as our destination.
Still unknown to many, Ranipuram rests on the Kerala-Karnataka border in the Kasaragod district of Kerala. When I saw its pictures shared by a friend, for a moment, I thought it's Illikkal Kallu. From the very look of rock formation at the view point, it does look to be so, but it's not as horrendous as that of Illikkal's.
The Beauty of Bekal / 31st December, 2016
Without wasting those 3 hours waiting, myself and Priyanka headed to Bekal Fort, the largest of its kind in Kerala, built by Shivappa Nayaka in 1650 CE solely for the purpose of defence. During this time, an observation tower was constructed at the center of the widespread fort from where he can get a clear view of the vicinity, including the slightest movement of enemies. 
The fort spreads over 40 acres of land and from the structure of its construction, it appears to be built from the sea. For the very same reason, one might find it tedious to take a corner to corner visit on a sunny day. A view from the citadel is all you need to engulf the beauty of Arabian Sea where boats sail in the vastness of the pristine green water-body. Currently under the governance of Archaeological Survey of India, the fort gained more popularity after the famous song Uyire from Mani Ratnam's Bombay was shot in its premises.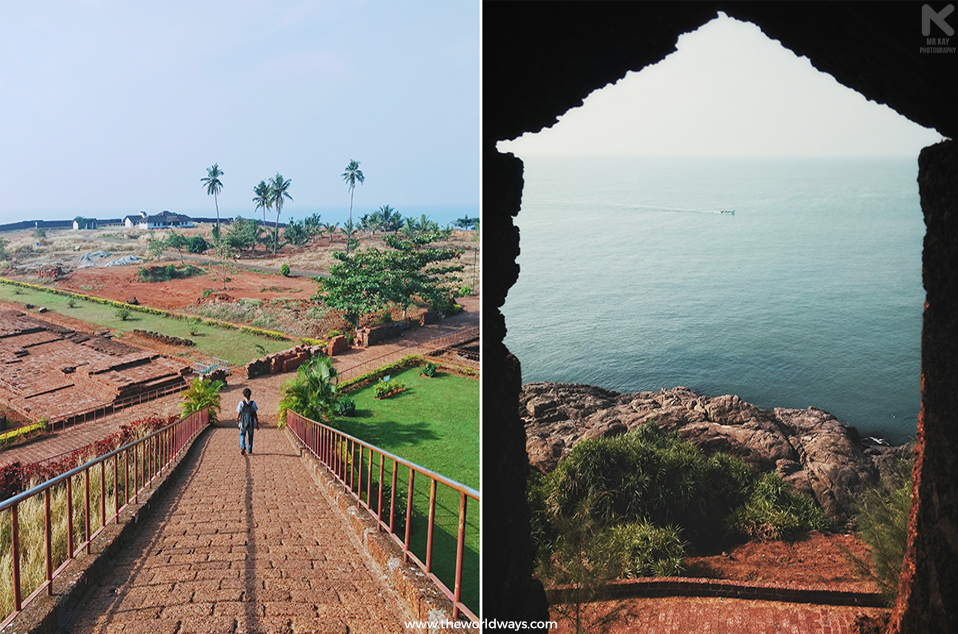 Apart from all these, the cleanliness and management of the entire premises is a noteworthy thing. There are around 3 shops inside the fort that sell eatables and soft drinks, yet finding trash is a rare sight. All due credit goes to the Archaeological Survey of India and its management staff.
To the Queen of Grasslands
By the time we got back from Bekal, Archana, Aparna and Anusree, who were coming from Bangalore had also reached Kanhangad. At the bus stand, we were told to take a bus plying to Panathur by a local, and thanks to our luck, there was already one waiting on the other side of the road.
I tried calling Madhu upon reaching Panathady, a native of Ranipuram through whom I had made the necessary arrangements, but he was unreachable. So with the information given by his wife earlier that day, we hired a jeep and asked to drop us at his shop annan. The road up until Ranipuram was steep, but as it was in a good condition, the drive was pretty smooth.
Madhu took us to the place where we were to stay for the New Year's eve – a beautifully made hut that resembles a tree house. Overlooking thick greenery of mountains from the balcony and with a small stream flowing a few meters down to the left, its location was just apt for the purpose of our trip.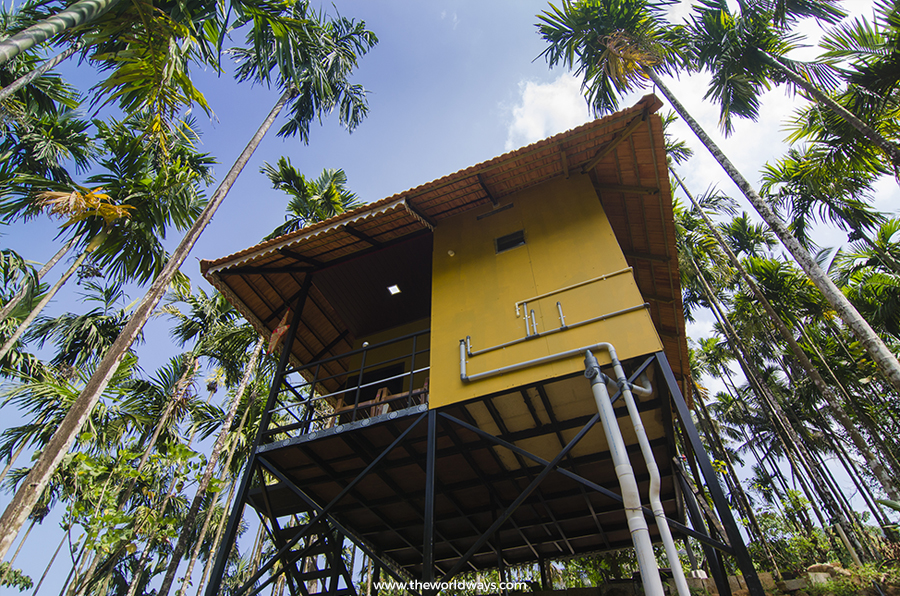 The Beauty of Ranipuram / 1st January, 2017
We started our trek after having a black tea from Madhu's shop. Early rays and thin layers of fog covered our view of mountains which could be seen far ahead.
Being the very first entrants of 2017, we were warned to not deviate from the main trekking route as it might take us deep into the forest. Stone paved steps lead us into the forest where trees grew in abundance and the morning light fell occasionally through its openings. Within 10 minutes, we reached the open land mentioned by Madhu earlier that day, before commencing our trek. Here, a small deviation of only a few meters from the main route will take you to a vantage point that gives distinctive view of Kodagu mountain ranges.
It was only past 8:30, but we had already started sweating. Far ahead of us we spotted two people trekking up a hill and it gave us a sense of the geography – 3 more hills to cross to reach our destination! But without losing motivation, we hastened our steps so that we can return before it gets to be too sunny.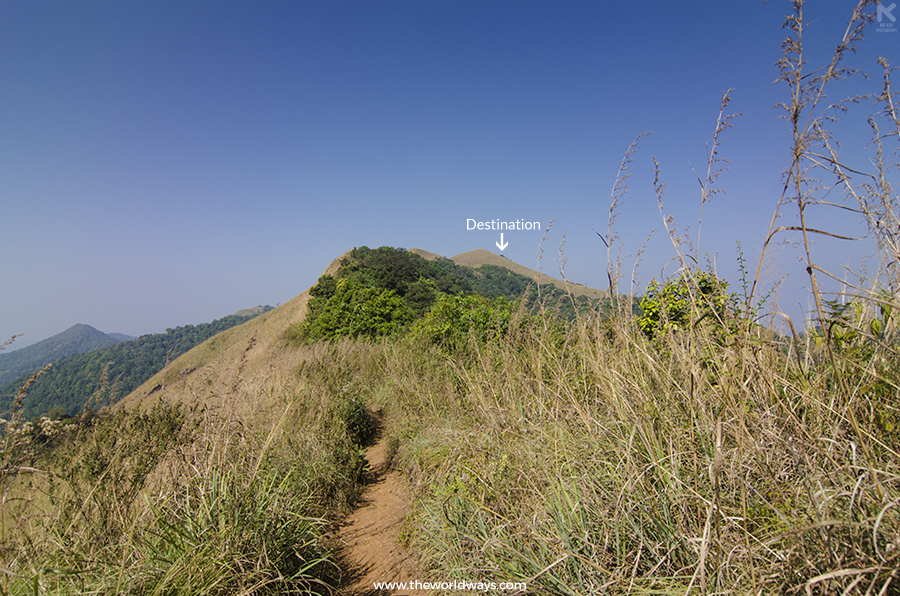 The whole trekking route is a combination of thickly grown trees and vast open lands with mountains sprawling over acres. So if at all you feel tired, you can take a break once you reach the shadowed areas – but remember, the terrain of the former is relatively steeper and the latter is nearly flat.
Finally, by 9:15, after a slightly exhausting and steep climb to the top of the 3rd hill at once, we were treated with the view of our destination – see the featured image.
As I had mentioned, the rock formation isn't dreadful like that of Illikkal and as there is a pathway, it isn't risky to roam around. There is also a view point behind that (with an iron barricade of course) and if you're to climb up until the top of the main rock, you'll be encircled with mountain ranges covered in greenery.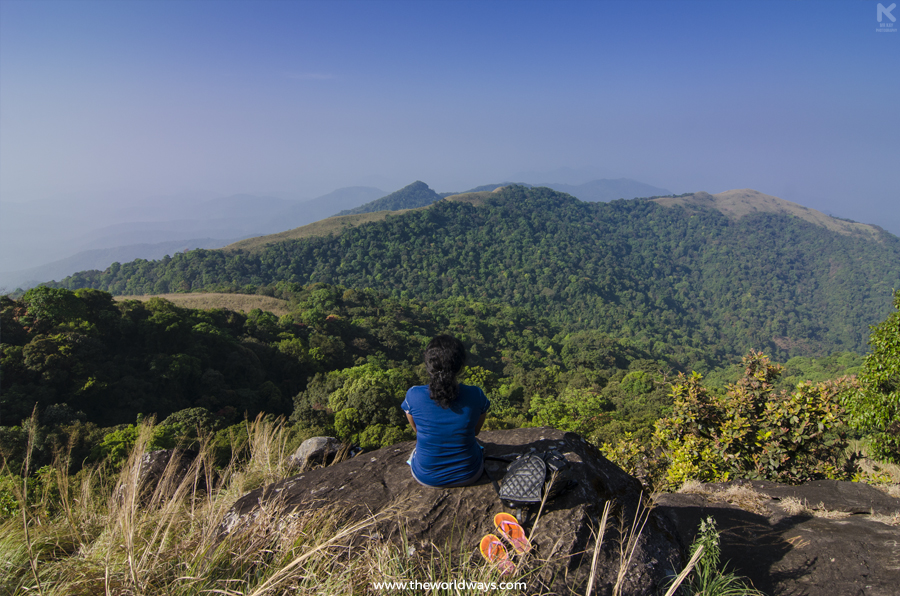 By the time we started our return trek, the Sun was above us, shining as bright as it can. But thanks to the middle-aged man who decided to setup a small table and big bucket full of chilled buttermilk (with which he had to trek up!) under a thatch built upon just 4 wooden poles. For obvious reasons, the drink was really refreshing and was enough to get us going till the end. Many, who were on their onward trek were seen getting exhausted and cursing the scorching Sun, while we were glad for the fact that we decided to head as early as we could.
It only took an hour's time for us to get back to the entry point which was moderately occupied with teenage crowd who came to enjoy New Year in their own way – shouting and howling inside the forest! We also came across a few such other groups on our way back; and I still wonder what makes them to interrupt the beauty of an otherwise serene forest with such loud noises – sigh.
*****
Post lunch, we bid adieu to Madhu hoping to come back another day, probably to do the 14-16 hour long trek to Talakaveri which he had mentioned earlier that day – through the dense Kodagu forests, risking our lives to the threat of wild inhabitants, mostly elephants!
How To Reach
Kanhangad is the nearest railway station which is at a distance of 34kms (one and a half hour bus ride) from Panathady, the place from where one needs to hire either a jeep or an auto to traverse 9kms to reach Ranipuram. While the jeep fare is Rs. 300/-, an auto will cost you Rs. 200/-.
Private buses plying towards Panathur from Kanhangad (board from the road in front of bus stand) is the best public transport option for Rs. 28/-. There's also one direct Kerala State RTC service that goes up to Ranipuram from Kanhangad.
*****
P.S: Although I had completed this travelogue by mid-January, it took 2 more months for me to proof-read and finally post this. Sorry guys, I'll (try to) be more punctual from now on. 😀
(Visited 1,078 times, 1 visits today)