You'd have probably heard about (and experienced) the captivating beauty of the ruins in Hampi already, but let me state the obvious – Hampi is a Paradise, in its every sense. Standing as the reminiscent of a bygone era, Hampi is an ancient city carved out of rocks. An alluring view from the top of Matunga Hill is all you need to understand the place and what it once was.
While planning for Hampi in 2014, I never thought I'd like a historic place full of rocks, sculptures, and ancient monuments, but later by the night of leaving, I realized Hampi had already got engraved in my mind. I still remember leaving the place with a promise to come back soon, but for one reason or the other, it took more than 2 years to get it fulfilled..and to get lost in the ruins, well yeah, literally!
Lakshmi's Morning Bathe
After an overnight bus ride from Bangalore, myself and Naseef got to the banks of Tungabhadra river that flows alongside Virupaksha Temple, the main center of attraction located at the heart of Hampi. We boarded a boat to cross the river, but when we saw Lakshmi coming down to the banks for her morning bath, we thought of putting our plan on hold for a while.
Lakshmi is the elephant at Virupaksha. She's always seen calm and this makes it comfortable for everyone to go near her and take pictures. Her trunk-blessing is famous, and so does her morning bath in Tungabhadra. People, especially foreigners, as well as photographers, often gather to witness this scene that happens at around 8:00.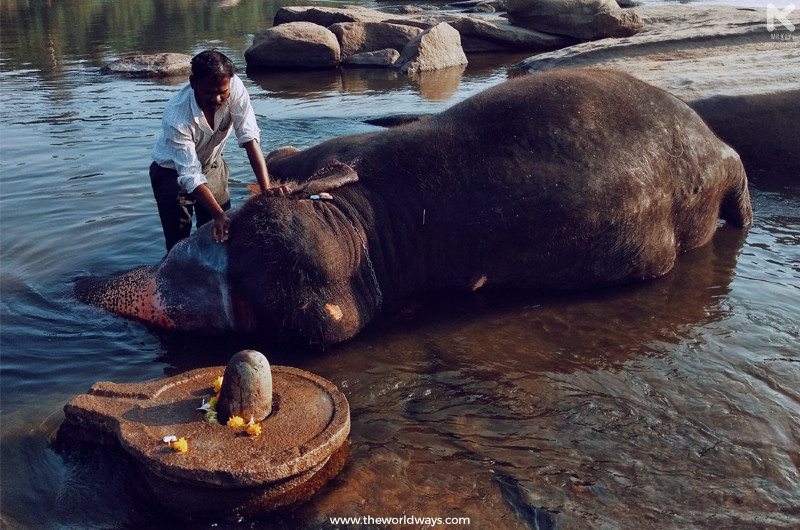 Missing Sunset by the Fraction of Seconds
After finding a really picturesque place to stay across the river, we lazed around till evening and drove to Sanapur Lake on a hired scooter. The lake was scarce of water, so without spending much time we left to Monkey Temple visualizing to shoot the Sunset.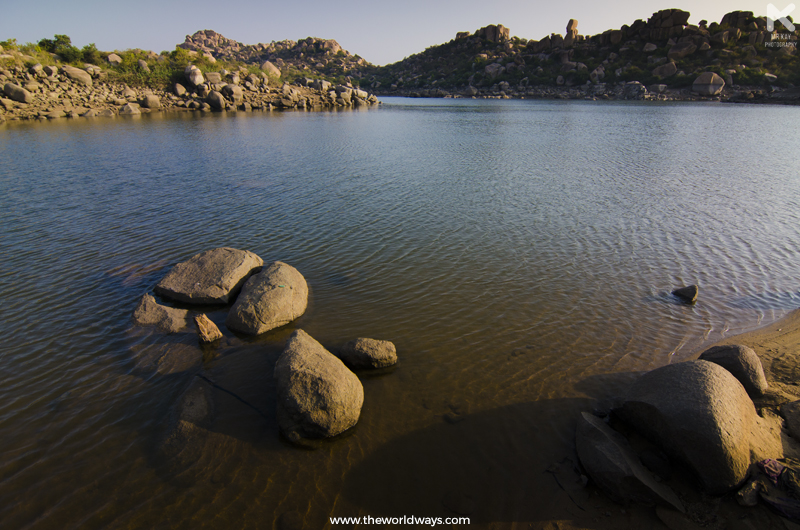 But unfortunately, we missed it by the fraction of a few seconds. Yet, the effort of climbing those 575 steps was fruitful as the ambiance and subtle hues that spread far in the horizon thereafter were truly magical – something that can only be experienced with the dynamic range of a human eye. As it turned dark, I lay there flat listening to a group of travelers from various countries sharing their travel experiences across India – how foreigners usually get cheated in New Delhi in a planned attempt by auto-walas and travel agents, the beauty of camel safari in Jaisalmer and so on.
Seeing the Beauty of Hampi Ruins..
Getting back to the much commercial side of Hampi the next day, at first, we got a room for 800 rupees, but I felt that we would get a much cheaper one. So we kept our baggage in the room, roamed around and found one such a place for 500 rupees. Although its bathroom falls outside (yet adjacent) the room, we moved in since it was a pretty sweet deal for that amount. The roof-top view added to it.
That evening, we headed to Matunga Hills for the Sunset. From Hampi Bazar, we walked till Achyutaraya Temple and although we got lost at first, we managed to find the way which apparently constituted a lot of (only of, actually) steps, and reached the Sunset Point a few meters down from the utmost top of the hill. Up from there, one can get an absolutely breathtaking view of Hampi from all the 3 sides and as I mentioned earlier, you'll get to know what this place once was.
The sky was void of clouds, yet the Sun going down in horizon with ruins of Hampi in the foreground was surely a view to watch.
..and Getting Lost!
It became dark quite soon after the Sunset and everyone else left the place before it gets to be darker. But on the contrary, we spent some more time watching those Sunset hues fade by; while down there, the nightlife in Hampi slowly acquired life.
When we got up to return by around 18:45, it had already turned really dark. From my previous trip's memory, the trail that leads up from the front side (seen in the above picture) of Matunga was comparatively trickier, so we decided to take the same route which we took to reach up. Our only light-source being mobile flashlights, we tried to find any leading marks to the return trail, but in the process, I ended up entering a cave-like place amidst massive rocks. But fortunately, after a bit of search, we managed to find the trail in about 15 minutes.
Just as we reached Achyutaraya Temple, a security (who'd have probably spotted us by our lights) approached us very irritatedly and warned us of leopards up in the hills. Since I haven't heard any such stories from Hampi till date and the milieu never looked like a leopard's habitat, his warning sounded a bit skeptical (although I couldn't figure out why he would've done that) and I discussed the same with Naseef.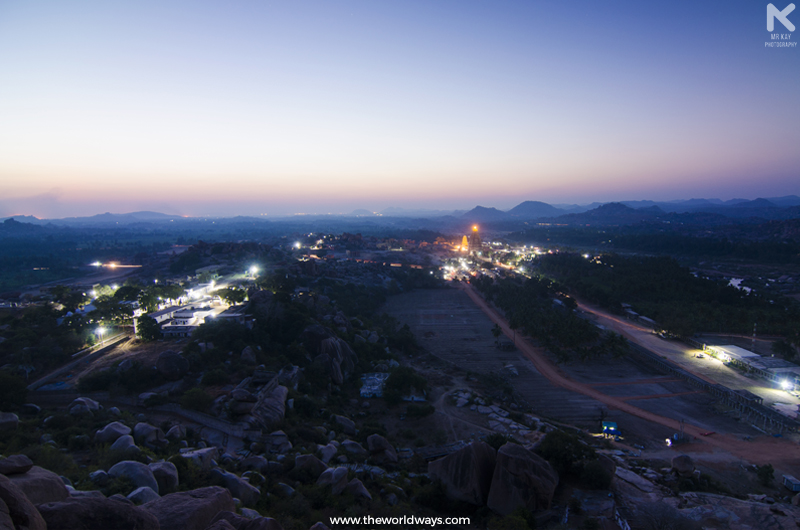 We got back to the road soon and as I passed the Police Station, a man whom I walked past told me that if I wait for a few more minutes, I'll get to see the rocks being lit in red, green and blue lights. In a conversation that followed, I came to know that his team is experimenting some lights and in 15 days, they'll start depicting Mahabharatha on the stone carvings with the help of lights. They also expect this to come up as a unique attraction in the ruins of Hampi.
Then, to clear the uncertainty, I asked: "Are there any leopards up in those hills?" Him: "Yes, 3 of them!"
Stunned, I looked at Naseef and thanked our stars for keeping us safe. It then struck me – what if the cave I entered was their habitat, or maybe, one of their habitats!?
Cycling Through the Major Attractions
We roamed in the bazaar to hire a moped for the day, but unfortunately, all of them were already taken. Exploring Hampi in a cycle, and that too on a Sunny day sounded quite like a task, but we thought it's better than to go by foot.
Starting from the bazaar road, we visited Kadalekalu Ganesha, Sri Krishna Temple, Badavilinga Temple, Lakshmi Narasimha Temple, Underground Siva Temple, Hazara Rama Temple, Royal Enclosure, Queen's Bath and Zanana Enclosure in a span of around 5 hours.
The route map starting from where we rented the bicycle can be seen here.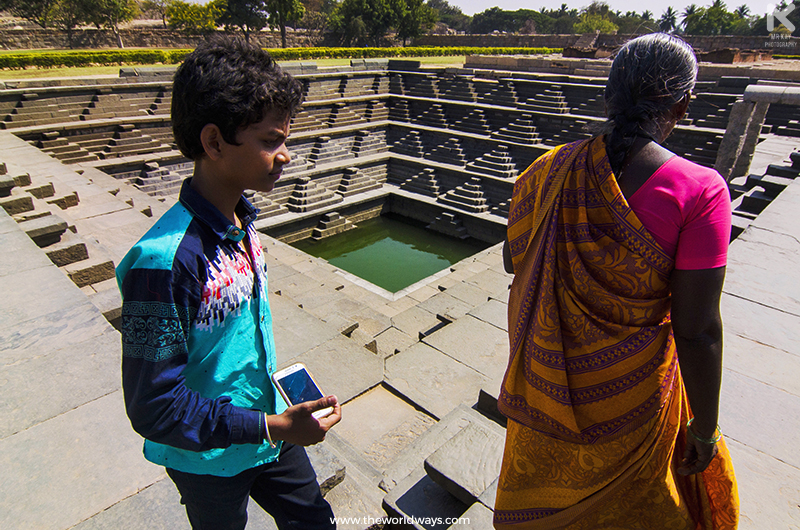 Hampi's Way of Bidding Goodbye
Walking through the rock-paved pathway to Vittala Temple, river Tungabhadra flowing through our left looked all the more beautiful in evening light. A huge wall formed by rocks separated it from the other side of the land. Coracles which are used to take tourists for a round trip were on the banks, but since we were short of money and as Vittala was our Sunset-destination, we resumed walking.
It was only past five and we had plenty of time before the Sunset. So we decided to catch a glimpse of the Sun from the nearby seen pile of rocks. But after getting onto a pretty huge rock, we ditched our plan of heading to Vittala and settled down to enjoy the Sunset from there.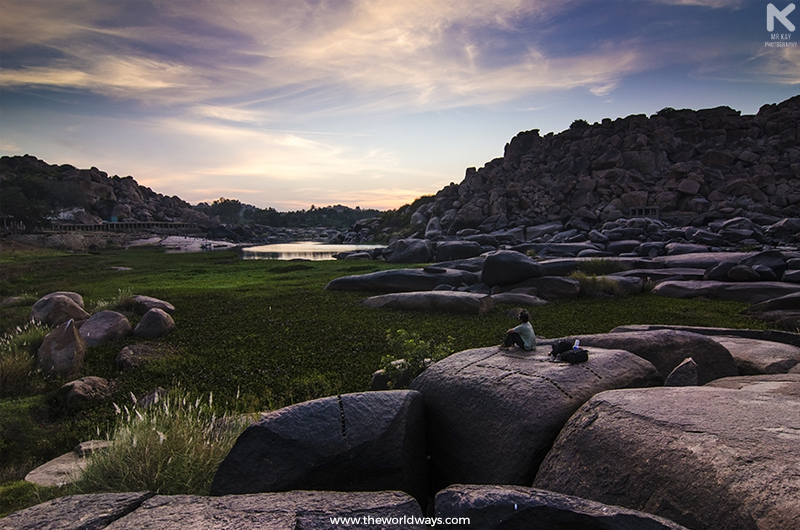 It was calm and there was no one around. The rock walls afar covered the Sun making it invisible after a certain point. But boy oh boy, the sky started splattering a variety of colors right after the Sunset. From the usual orange hues to various other warm tones, it just kept changing one after the other. And of all, I still remember that mix of magenta which stayed for a while. For obvious reasons, I found it to be the Hampi's way of bidding goodbye.
*****
A Cheap, but Quality Restaurant in Hampi
Shout out to Sri Venkateswara Hotel inside Hampi Bazar – it's pretty small, but offers freshly cooked food at a very reasonable price – especially when compared with others restaurants in and around Hampi. If you're in Hampi, try grabbing a meal from here and I'm sure, you won't regret.
P.S – This hotel wasn't even listed in GMaps, but I've got it listed now. So if you'd eaten from there and would like to post a review, please do.
Useful Info
The boating time is from 6:00 – 18:00. So if you wish to stay across the river, plan accordingly.
The boat fare is Rs. 10 per head; but if you are taking it before 9:00, Rs. 50 will be charged. Additionally, a 20 rupees baggage fee is also there regardless of the time.
As of now, there's only one shop to hire mopeds. So if you want to get one (especially if its season or a weekend), do it early or else, you've to either hire an auto-rickshaw on a daily fare basis or rent a bicycle like we did.
(Visited 633 times, 1 visits today)