THE UNPLANNED PLAN
Apart from going for a drive to Fort Kochi, I was void of any solid plans for the weekend. In fact, since I've been strolling for the past two weekends, I made it a point to not plan anything until August. It was then Aparna pinged asking for my weekend plans and whether it's okay to plan a Chikmagalur trip – her urge to travel was clearly visible in those words. It's been pretty long since we've had a trip together and as Chikmagalur stayed to be a place known to me only through travel websites, I let my driving plan wait.
Train tickets weren't available, but Tatkal came to the rescue. I joined Priyanka in Maveli Express and reached MAQ the next day morning. From station, we hired an auto to Jyothi Bus Stand. Soon, we got to board a Karnataka RTC (Rs.146/- per head) so as to reach Chikmagalur by 13:00.
The Planters Court was where we had booked our accommodation. Archana, Aparna, Dheeraj and Jishnu who drove from Bangalore had already checked in by the time we reached.
Since it was a shortly planned trip, no one among us had a clear cut idea of where we should head for the day's evening. Upon an inquiry at the hotel's reception, they showed us a map that had markings of all the tourist spots in the vicinity. After a couple of discussions, we decided to head to Belavadi, where one among the temples built during the rule of Hoysala Empire is situated.
The hotel people arranged us a cab. An hour's drive took us to Veera Narayana Temple, Belavadi – the place where Bheema killed the demon Bakasura.
The sanctum was closed. With stone carved pillars from a bygone era still shining massively in evening light, the temple stood in all its grandeur. The ambiance had such a soothing sense to it. I went for a stroll around the architecture and happened to take seat by a corner of the empty temple premises, admiring the tranquility which prevailed.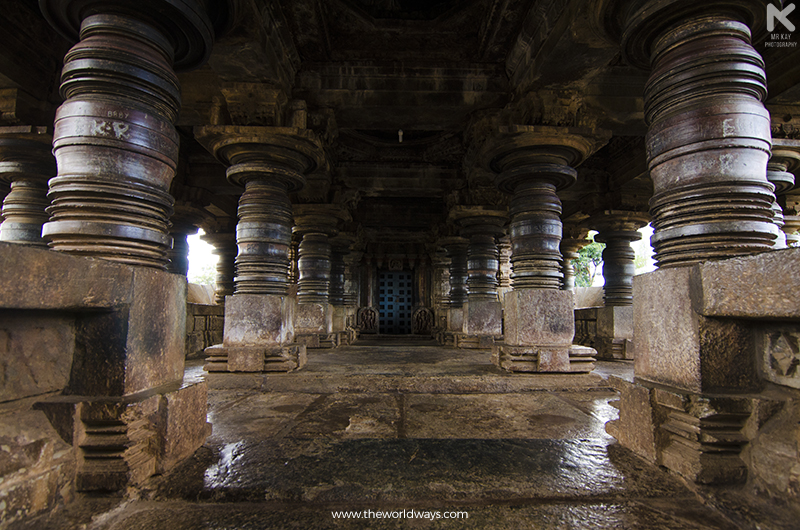 About an hour later, it began to drizzle. Every raindrop that came down was from a heavenly place, it seemed. I did nothing, but sat there contemplating at the clear sky.
As we returned past 18:00, I decided to visit the entire Hoysala Architecture in time to come.
Post dinner from the restaurant adjacent to our hotel, we gathered at the hotel reception once again, trying to fix on our next day's itinerary. Since we have to get back to the Hotel before check out time, we had to limit our plans to suit it. From the map, we concluded that Mullayangiri and Muthodi Forest are the feasible options of all. Even though what Muthodi offers is a jungle safari with no guarantee of sighting wildlife, but to reach back on time, somewhere in the midst of discussion, we decided to choose Mullayanagiri even though we were doubtful of getting back on time. Man, the Google images were so awe-inspiring that the place seemed to be a must visit and we couldn't help but take that risk. After all, myself and Priyanka hadn't booked our return tickets, neither did the others since they drove bikes all the way from Bangalore. So the hotel check-out time was only our major concern.
FROM DARGA TO MULLAYANAGIRI
By 7:00, the cab which was arranged by The Planters Court came to pick us. Leaving the town premises, we stopped to have a cup of tea. We also bought biscuits since we weren't sure of getting breakfast on time.
As Abhi, our driver, drove us through the twists and turns of a hill which is a part of Bhadra Wildlife Sanctuary, the cold breeze soothed our senses. The beauty, which is inexpressible in words, reminded us of the Sikkim trip we did over an year ago. Mist, breeze, floating clouds, grey rocks, green valleys – all of them were well in sync.
Abhi stopped at the starting point of the road which deviates to Mullayanagiri and suggested to go to another place which is 15kms away. He promised to take us back to Mullayanagiri Peak while returning and then to the Hotel on time. As we were running on a tight schedule, we refused him at first. But since Abhi insisted to go there, we thought it will all be worth it and we finally said – "heck, let's go there anyway!"
It was cold. We kept our footwears inside the cab and walked down to a place which looked holy. The blue fence on both sides, along with fog made the pathway look picturesque. After taking a few pictures, we stepped into the temple which is carved out of rocks. Water droplets were dripping from every nook and cranny of the orange-ish rocks. While we bowed down to save ourselves from hitting rocks, the incense sticks filled atmosphere with its aroma, immersing the mind in a divine aura. As we neared the sanctum, we realized that it's a Darga (Dattatreya Baba Budan Swamy's Darga) and not a Temple – which we initially thought it to be.
From there, Abhi drove us further to a peak where there is a ruin. The place was filled with mist, but yet, beautiful.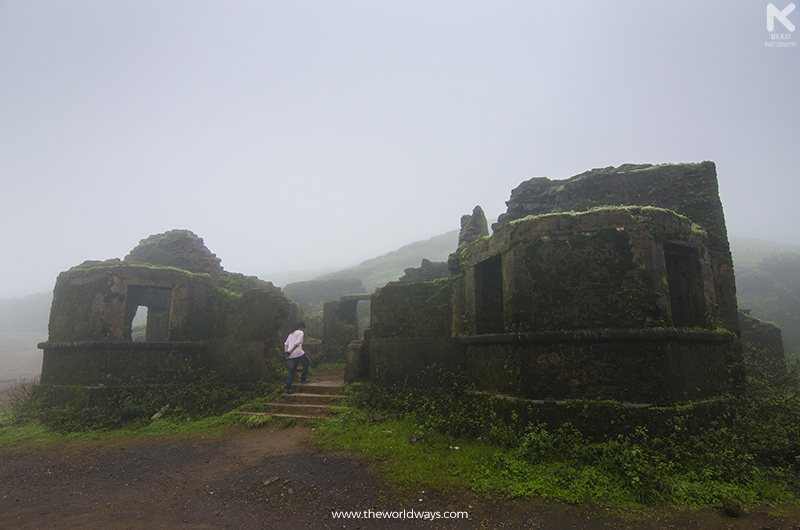 Getting back, we took the road to Mullayanagiri and reached at the parking lot from where we took the steps towards Mullappa Swami Mutta Temple, a peak at an height of 6300.17 feet above sea level. The mist and fog made it look like raining. The heavy wind added more drama to it. My ears started to ache as I proceeded. Occasionally, even breathing seemed to be a tough task. But surpassing those minor hardships, we made it to the peak.
By then, even though I had covered my camera gear with a plastic cover, it got all soaked up in wind and mist. Well, blame me for taking photos all through the way.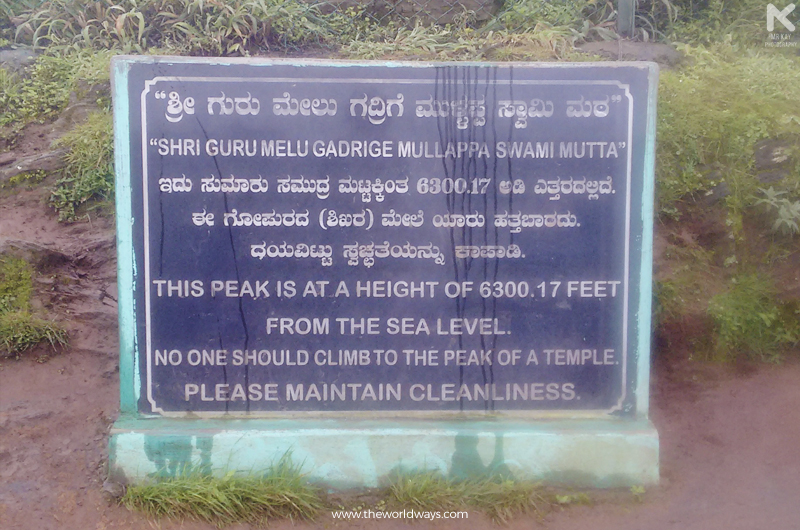 Removal of footwears made us touch the Earth and it was nearly bone chilling. From the temple's main entrance, one could get a view of Chikmagalur, Abhi said. But as it was hazy, the view was all in white.
Wind was still blowing along with mist, but stepping down wasn't really a task. The hot corn from the parking lot kinda gave life to our numb senses and we drove back to the Hotel.
Abhi kept his word. We reached back on time. Post checking out followed by a lunch from the hotel's restaurant, myself and Priyanka bid adieu to others. From the bus stand, we boarded a bus to Ujere (Rs.83/- per head), and from there, another bus to Mangalore (Rs.54/- per head).
Since we were running late, we couldn't get a train back home. So we hired an auto to the Mangalore KSRTC Bus Stand and took a bus back home by 21:00.
And that's how, a shortly planned Chikmagalur trip came to an end, marking two noteworthy changes in my life.
*****
SOME USEFUL INFO
Abhi, Cab Driver – +91 80501 27120

Cab Fare to Belavadi – Rs. 1,200/-

Cab Fare to Mullayanagiri – Rs. 2,500/-
(Visited 1,207 times, 1 visits today)