Hampi is something that stayed within ever since I started to lug around a camera. Titled to be a photographer's paradise, I wanted to visit Hampi since the past three years. And so, on the 15th of August, as India celebrates its 67th Independence Day, we, a group of 3, went on for a trip to the ruined land of once empire, Hampi.
Part I – It begins.
Me and my friend Priyanka board the bus to Hospet from Madiwala by 8PM. After a good night's sleep as we wake up in a bus which ran one and a half hour late, we could see lush green mountains passing by. Hospet it was, our gateway to Hampi. By 6.30AM, we got down near the Hospet bus stand, popularly named as the JSW Vijayanagar Bus Terminal. After sipping a cup of hot tea from a small shop nearby, we went to the bus stand waiting room since our co traveler Anju is yet to arrive.
As we waited there charging our mobiles, I took out my camera to shoot something around. This lady named Krishnaveni, who was sitting beside asked whether I could take a photo of her. I smiled and nodded yes; then she coined another question out of her sheer curiosity – "Color Photo he?" As I said yes, she said "one minute" and took out a comb from her bag and combed the hair. Her calm pose was beautified with a smile. I took some 3 photos of her and showed it on the camera LCD. Seeing them, I could see a happy innocent smile slightly shaping up on her sleepy face.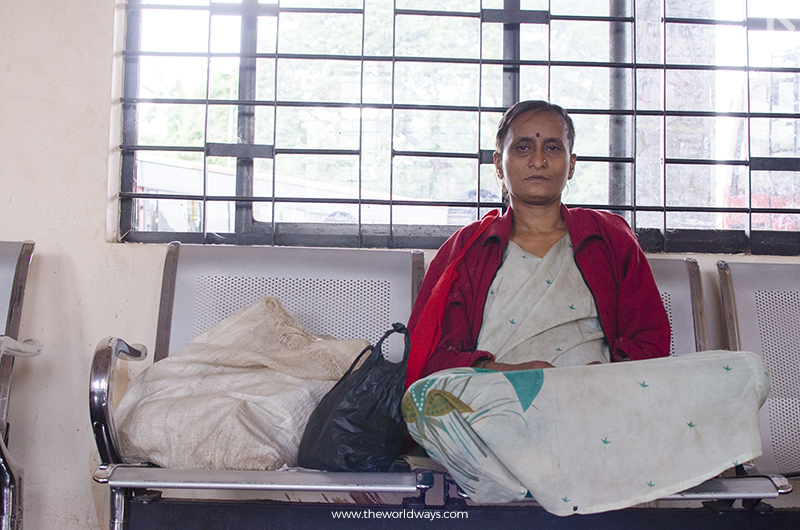 Later, as we got to know that Anju will be late, we decided to head to Hampi and rent moped as early as possible. It's an extended weekend, so yeah, we thought getting these kinda things done early is a good thing.
We took a bus (Rs. 15/-) from the stand and by 8.05AM, we reached Hampi bus stand. In fact, Hampi doesn't have a proper bus stand – it's just a parking place for tourist vehicles, autos etc. We got down, walked towards the famous Virupaksha Temple, hired two Mopeds (Rs.250/- per day + fuel Rs. 100/- per liter) and rode to Tungabhadra River in search of some decent place to stay. Though we found a serene home stay kind of place, we came back to where we hired the moped since the rooms were kind of small and had no bathroom. Raju, the man who rented us the moped showed us a pocket road which lead us to a small street with home stays and restaurants. We took a double room at Shambhu Guest House for Rs.1500/- per day(for 3 people). The place also offered WiFi.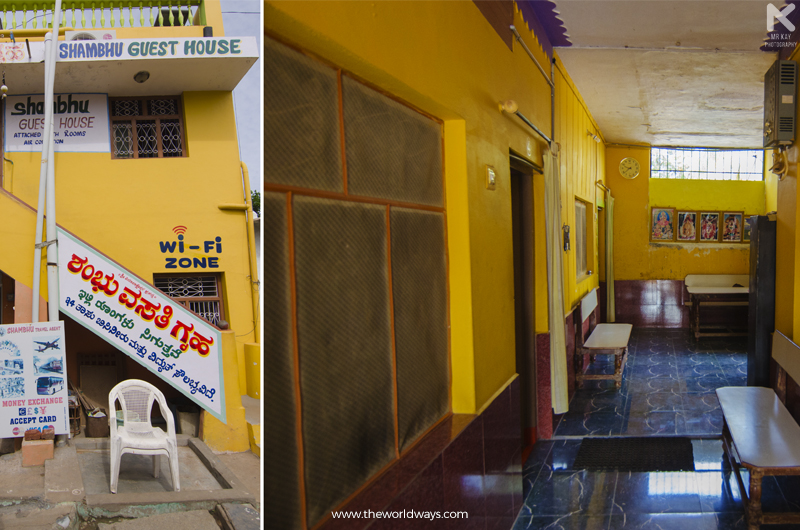 Anju reached by 11.30AM and by around 12.30 PM, we had lunch from Mango Tree Restaurant and set out to explore through the ruins in our hired shakadam. After getting along a few kilometers, we realized that the local people are totally a mess. They rode harshly with an Indian flag tied to the visors. We visited Lakshmi Narasimha Temple, Badavi Linga and headed further in search of Stepped Tank. On the way, we stopped at the Queen's Bath. The place was heck crowded with local people and it was like if there are some ten guys passing by, a minimum of nine will be eyeballing on us. Much annoyance.
After spending a few minutes in its lawn, we got out. There was a muddy road lying to the right side of the place where we parked our mopeds. We thought of taking that route to see where it will take us. I rode in front hoping that Anju and Priyanka will follow. But after moving a bit, I heard a sound which sounded similar to a vehicle fall. I stopped, looked back and saw Priyanka standing and Anju trying to get up with the moped. I rode back. By this time, the cops who were standing aside came to help them. They were all smiling and told me that there is nothing to worry and the foot rest of the moped which happened to have a bent can be repaired easily. But what surprised me was their approach to us. As just we thought that everyone around Hampi is all the same, we met these nice gentlemen. Priyanka hurt her elbow quite badly and since we found the road to be muddy rough and tough, we got back to the tarred road and rode ahead. All along the way, we passed by many youngsters who shouted, honked and stared at us as if they haven't seen women in their entire life. What annoyed me more was the Indian flag which every single bike had on its visor. What an amazing way to celebrate Independence. Duh.
We rode and rode and rode and by 4.15PM, we reached Vittala Temple. Though there were dedicated vehicles to commute between the temple and its main entrance, we chose to walk and explore the place since we have spent the past few hours doing pretty much nothing other than riding and visiting places. The road was dusty and the constant movement of vehicles added to it. It was about one and a half kilometers of walk. On the way, we spent some time by a Banyan Tree and the Pushkarani. For human eyes, the Pushkarani looked just like another pool, but when you look at the same as in a photo, it looked totally amazing! And maybe I think that's exactly why people call Hampi to be a photographers' paradise. As we resumed walking, we changed our plan to see the day's sunset atop Matunga Hills to the Temple's premises.
An admission fee of Rs.10/- is charged per head since it is under the Archaeological Survey of India. The place was crowded. We sat in an almost silent corner of the temple. Time crawled. It drizzled in between and I took a cat nap. By the time I woke up, it was 5.30PM and the Sun was in its horizon, all ready to settle down for the day. The drizzle and nap followed was a total refreshment both for the mind and for the body. We walked around, climbed on the wall, got down since there was not much of a sunset photo opportunity and finally came to the entrance where I set the camera to take some shots of the sunset. Since I had no tripod, I used the camera's battery charger and my slippers to balance my camera on the rock. Small tricks, you see.
We were the last ones to get out. On our way back to the main entrance, we visited Pushkarani once again for the tranquility it possess and as we were about to resume walking, a vehicle came by. We asked for lift and even though we didn't have tickets to commute, since the driver saw two females in the group, she allowed us to get in. It was 7.05PM and was dark already. We tried to kick start our shakadams, but it was of no use. We gave a few more tries, but that too, didn't find any fruit. Right then, a boy, aged about 15, came by and helped us to do the job. To our surprise, in his first kick itself, it worked. He also straightened the headlight which was slightly off placed due to the accident we had earlier the day. Hampi goodness, #2.
A 45 minute ride took us back to Hampi – there were no streetlights, so we moved slowly. Since the moped was not in a good condition due to the minor accident, we met Raju and explained what happened. His assistants examined the vehicle and told us that the headlight is kind of loose/broke and we gotta pay Rs. 350/- for repairing the same. Since the footrest can be recovered by welding or something, he didn't demand anything for that. You see, Hampi goodness #3.
Roaming to find a good place to have dinner, we found a rooftop hotel next to the place we stayed. It was dark and we were the only ones to have food from there. We spent like almost one and a half hours up there under the starred dark blue sky, chit chatting and eating. It was peaceful. Calm. Quiet.
Part II – The rising and setting.
Woke up by 5.00AM and headed to Matunga Hills with the help of G Maps. It was dark. We entered a gate that read 'private road'. After moving a few meters, we get to realize that it's some housing colony. As instructed by a resident who came by, we parked our mopeds and walked towards a gate which opened to the bottom of a hill. It was pitch-dark and we thought of waiting for a bit more.
Anju Google-ed for the sunrise time and found it to be 6.10AM. So by 6.00AM, we started to climb the hills. It was rocky and steep at places, but the sole intention of watching the Sun rising up behind the Virupaksha Temple kept us moving. We stopped and sat on a big rock from where we could get a good view of the temple. Moments later, we saw a small group of Japanese men walking by. Thinking that our view will be better, we thought it will be stupid to climb up. So we sat there, waiting for the Sun to rise. Moments passed. Darkness gave way to light. But still we couldn't see the sunrise.
By this time, Priyanka climbed up further and gave us a call to inform that the view is much better up there. We climbed up. The place where she sat had a great view, in fact something better than we had a few meters down there. It was getting brighter, but yet we haven't witnessed the Sunrise. We climbed a bit more and saw the Sun Rising up just in the opposite direction we thought it would – Damn that! The Japanese were sitting there, contemplated. I guess most of us Indians are like that – lazy. Almost comfortable with what we have. Can't go any further. And we watch countries like China and Japan growing ahead of us and appreciate them for their brilliance and hard work. Heh.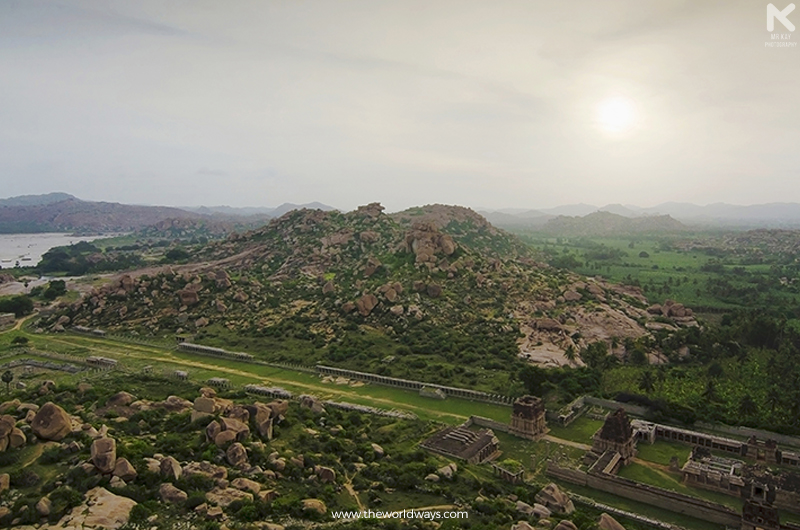 After spending some time, we thought of climbing up to the utmost top where a small temple like architecture could be seen. I almost slipped while climbing, but thank God, nothing bad happened. The view up there was such a breathtaking one. We could get an almost complete view of the ruined empire with paved and scattered rocks, green bushes and water bodies. As I stood there in admiration of the architecture, my mind traveled back to history in search for visuals of a bygone era.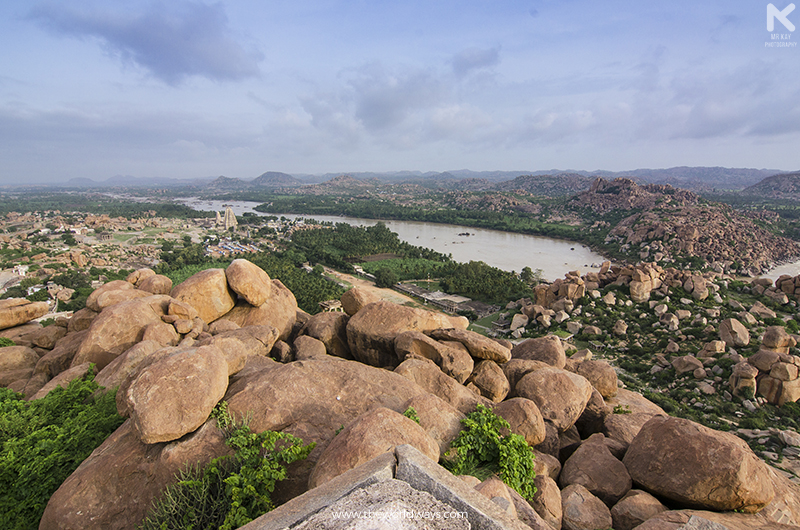 We came back to the hotel and had breakfast from the small hotel nearby which served hot Idlis and Appams that are in the shape of Unniyappams. As the morning's visuals and half sunrise (heh) was still lingering in our minds, we thought of taking some rest before exploring more.
Our initial plan was to leave to Bangalore the next day. But since it will be a 8-9 hours ride and the probability of catching our return bus back home was comparatively less, we thought it will be better to catch a night bus back to Bangalore. We asked the hotel guy to book us a vehicle so that we can commute safely between Hampi and Hospet. He arranged an auto rickshaw for Rs. 400/-. Though the rate sounded a bit too much (considering it to be just RS.100/- during daytime; 30 minutes ride), we asked him to proceed since we had no other way. We booked tickets online and took a nap until 2.00PM.
This time, we thought of trying something different for the lunch and went to a small hotel from where we had curd rice which tasted real good viagra prezzo. We got back our mopeds from Raju after a quick checkup and fuel re-filling (Rs. 150/moped) and rode to Octagonal Bath. By this time, driving the moped became a neat task and we acquired decent control of it. Passing the Queen's Bath, we reached Octagonal Bath by 3.45PM. The place is located inside a vast land, which looked more like a valley with ruins and ruined architecture spanned over places. Hence, finding it seemed to be a tough task. But after checking the map which we bought the first day from Raju's assistant for Rs. 5/- and G Maps, we finally found it. But the place didn't appeal us much. Moreover, we realized that we were in fact looking for Stepped Tank thinking that Octaganoal Bath is its alternate name. So we dug G Maps all over again and found Stepped Tank to be situated somewhere near. Following the map's direction, we entered a muddy road and then, we realized that it's the very same road where we had accident the day before. Crossing it, we reached Royal Enclosure – consisting of Mahanavami Dibba, King's Audience Hall, Stepped Tank and an Underground Chamber. The whole place looked amazing even though the tank was almost drained. There was a security sitting aside and he didn't allow anyone to step down.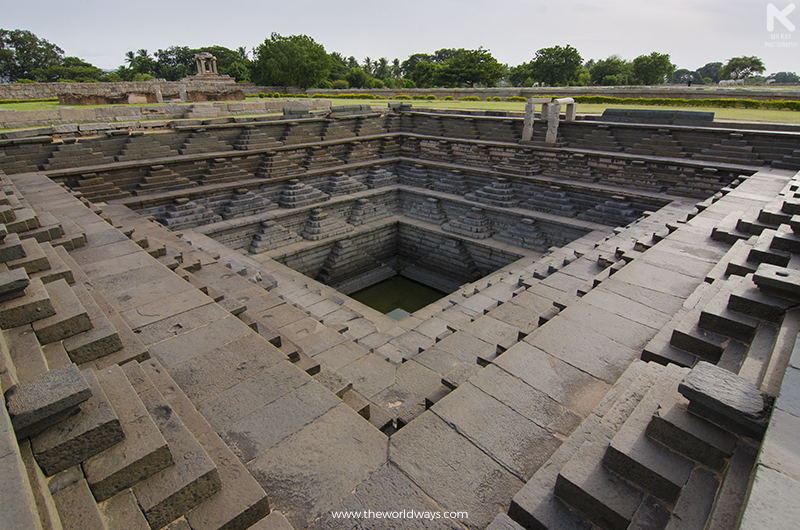 By this time, it was past 5.00 PM. We rode back to Hampi. From the main gate, we deviated to the right side and parked our mopeds where the road ended – this place has the Hampi police station. There, we saw a board that read 'Matunga Hills' – this made us realize that the way which we took earlier the day was not the popular/actual way to the hills. But since we took that route, we had to climb comparatively less. Heh.
Upon reaching a ruined architecture and looking far ahead, we realized that the sunset (which will happen behind Virupaksha Temple) will be blocked by the giant rocks. So we walked back and climbed on the two 'mandaps' 'from where we could get a clear view of the sunset. By this time already, the Sun was in its last minutes before setting down for the day.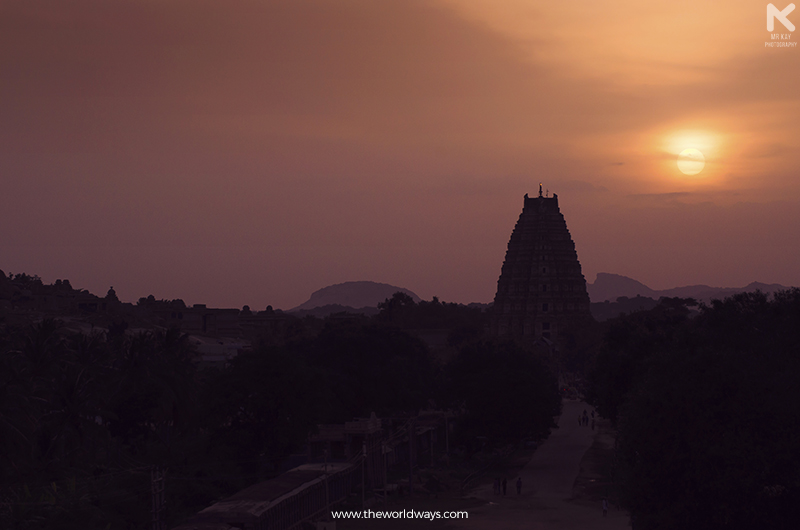 It was beautiful – beautiful in all senses. The red circle slowly going down behind the temple was such a blissful thing to watch. The cool wind which blew through the hair added to the mood. Even after the sunset, we spent a bit more time enjoying the immense beauty the place held.
We rode back, returned the mopeds and went to Virupaksha Temple. By the time we entered the temple, it was past 7.15PM. It was dark – probably because of power failure. We sat in there and I set my camera on the camera bag and took some long exposure shots of the temple.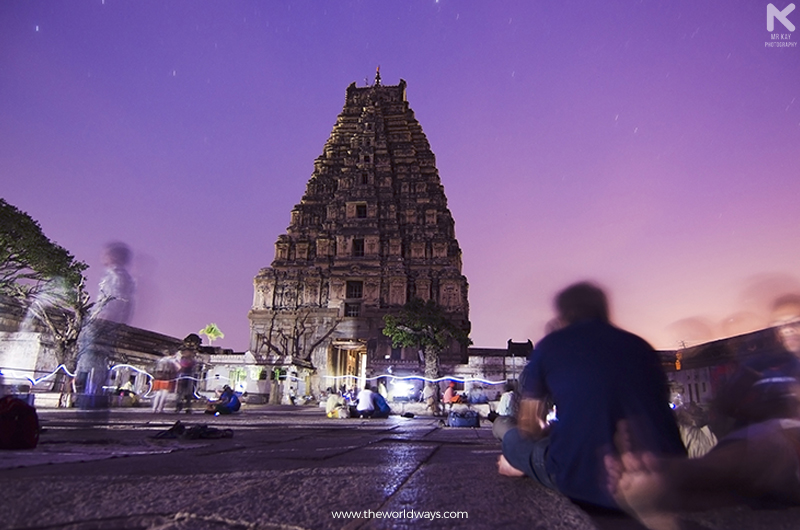 After spending time until they closed the temple, we got back, had dinner from the same hotel from which we had lunch earlier the day and walked back to our rooms. It was sharp 9.00PM and the auto guy was waiting for us since 8.45PM. You see, nice people arrive on time and much nicer ones arrive early.
We packed our bags and transferred to Hospet by 9.30PM. A few minutes later, our bus arrived. We got in, kept our bags and calculated the trip expenses. It was 3k-ish per head. After a good night's sleep, we reached Kempgowda Bus Station five minutes early to the scheduled time. After bidding goodbye to Anju, myself and Priyanka took our way back home.
SOME USEFUL INFO
Arrive early and get the Moped. I don't suggest renting a bicycle since it will be real tiring to ride it under the Sun. Also, as there are enough ups and downs, you will sweat the heck out.
The moped is really light. Acquiring control of it is the first thing you need to do after hiring the same.
Submitting your driving license is not mandatory while hiring the moped. He collected the original copy of a PAN from us and kept until we returned.
Better choose a working day – this can ensure less crowd. A usual weekend will also work good.
If the locals stare at you in an annoying way, stare back. I discovered this only to the end of the day – this never seemed any harm and worked pretty well for me.
No street lights. So better to get back to your room by 6 or 7 in the evening.
As the reviews and travelogues say it, Mango Tree Restaurant is not a must-eat-place. Better consume yummy food from the small hotels nearby.
No good clinic/hospital at Hampi. Advised to carry a first aid kit.
Our must see picks at Hampi are: Badavi Linga, Royal Enclosure, Vittala Temple, Sunrise/Sunset at Matunga Hills and Virupaksha Temple.
Shambhu Guest House: +91 876 239 5481, +91 948 038 6751 | E-mail: [email protected]
Raju, Moped Rental: +91 948 062 1624
P.S: It's been 6 days since I returned. But still, I can see myself climbing up the hills, watching the sunrise and sunset on the same day – a never before thing in life. Being more precise, Hampi is now engraved in my mind. A part of me is still wanting to go there all over again.
(Visited 4,556 times, 1 visits today)