As far as I remember, we've been only going to mountains since we started traveling. So we gave our itinerary a change and planned to visit Gokarna, a small temple town lying on the western coast of Uttara Kannada district in Karnataka. But what makes it touristy is, this little town is also a beach paradise where one can camp alongside the shore or trek through the cliffs.
The four main beaches at Gokarna are; Kudle beach, Om beach, Half moon Beach as well as the Paradise Beach. While Kudle is west facing, the rest of them face the south.
August 12th, 2016
I got a call from Priyanka by 19:20 saying that she is stuck in traffic and her chances to catch the train are less. I asked her not to worry and told that even if she can't, we will somehow reach Gokarna the next day.
Past 20:15, I called her and got to know that she missed the train, but boarded another train to Mangalore. In a plan to meet at Mangalore Central the next day, I left to catch my train.
August 13th, 2016
As usual, Maveli Express reached on time. After a three and a half hour long wait, finally, Priyanka's train arrived half an hour late to the scheduled time. Later, we boarded the Matsyaganda Express to reach Gokarna past 18:15; and from the station, we hired an auto to Zostel for Rs. 250.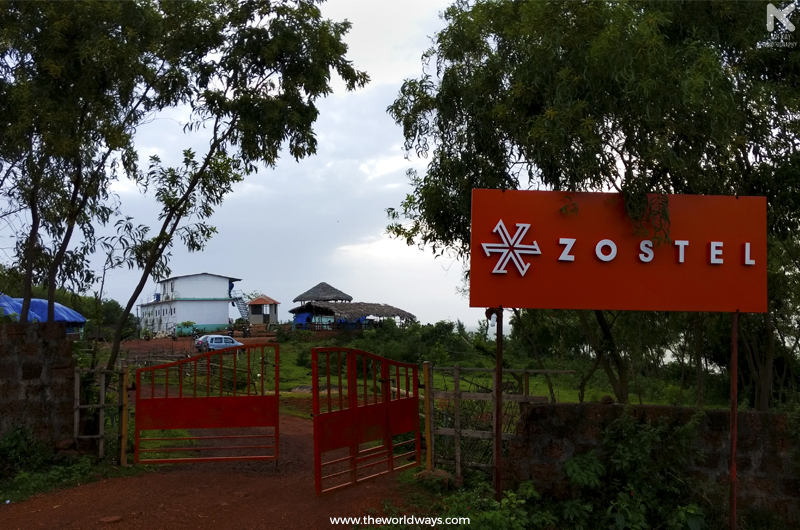 Archana and Aparna had already checked-in earlier that day. If Priyanka hadn't missed the train, we would have reached by noon and that way, we could've saved half a day.
After dinner, myself, Priyanka and Aparna went for a walk to Gokarna Beach. Since it was late, the beach wasn't crowded and so we spent an ample amount of time at the shore, listening to waves and gazing the starry sky.
August 14th, 2016
Early in the morning, we went for a stroll and took the road that lay towards the right of Zostel. Rambo, the pet dog at Zostel also joined us.
We deviated from Kudle beach road and took the path through a scenic grassland – which got us back to the main road soon. While some stray dogs continued to bark at Rambo, we entered a much village like path with lush greenery on both sides and it lead us to an opening to Kudle Beach. With gentle waves caressing our feet, we headed to the utmost end of that small yet calm beach. Where the beach ended, we spotted a man lying flat, adjacent to the rocks by the shore. Waves were passing over his legs, but he seemed carefree. At first, we thought it was someone sunbathing or resting after the night's hangover, but when two dogs approached it sniffing, we realized it's a dead body which had just washed-up!
Realizing the fact that it was a dead body put Archana off and she urged to leave the place soon. We thought of heading to the next beach in the row, the Om Beach, and started hiking the (Gokarna) cliff. We kept walking for quite some time and reached a fairly open area with a view of the beach. Archana, Priyanka, and Aparna sat there to take rest, as I walked further to see how far the beach is.
A 5-minute walk took me to a park-like area that gave way to Om Beach.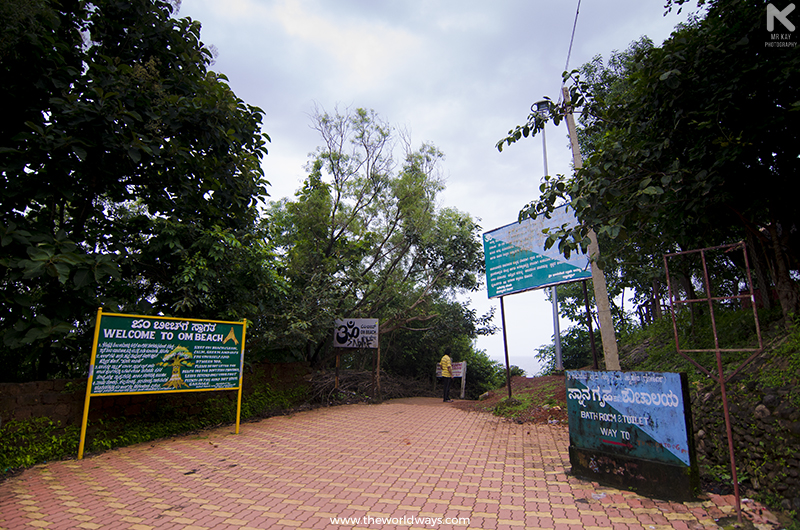 I walked further to see if there's anything to see around. It was then I got a call from Aparna asking where I am. They thought that I left to see the beach without telling them; while I was in the notion that, since they were taking rest, I thought of scouting the place and ask them to come down if there's something worthwhile.
I walked back to meet them and we returned to Om Beach soon. Walking by the shore, we reached Parvathi Rocks. Archana and Aparna sat a few meters away on the shore, Priyanka took a seat further apart on Parvathi Rocks and I sat somewhere in between them. We all were in our own world and didn't even care to look at each other.
*****
It was an extended weekend and two-wheelers were all taken by the time we finally decided to hire them and visit Yana Caves. But then Pradeep, the Manager at Zostel, arranged us a cab for Rs. 2000/-. The itinerary was to visit Mirjan Fort, head to Yana Caves and visit Vibhooti Falls while returning.
Located in the Sahyadri mountain range of the Western Ghats, Yana Caves is a gigantic rock structure that's famous for its unusual rock formations. The two massive rock outcrops are known as the Bhairaveshwara Shikhara (120 meters in height) and the Mohini Shikhara (90 meters in height) – where Shikhara means hill. As far as I figured out, only the former is accessible for visitors. There are two routes to the cave, out of which one is a 3-kilometer long trek and includes climbing steps which can be tiresome to a majority. The other one is relatively easier since it's only half a kilometer of walk through the forest trail.
Apart from being famous for its structure and location, Yana is also famous for the self-manifested linga which is worshiped by many. Water keeps dripping from the roof to the linga, adding to its sanctity.
Even with the wide lens on, I don't think a camera can do justice to this monolith's magnificence.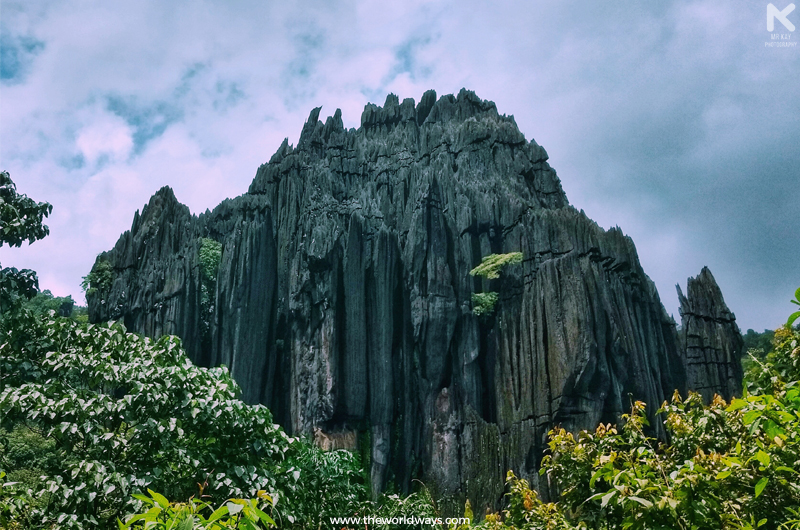 After Yana, next up in our itinerary was the 30 meters tall Vibhuti Falls, located about 8 kilometers from the caves. Although the name came from the falls' proximity to limestones, ancient history says that the fall was formed and got its name from ashes (Vibhuti) that emerged from the burning of Bhasmasura at Yana.
Since it was drizzling intermittently, the one-kilometer walk through uneven terrain was tricky as well as slippery at various places, but we managed to commute to and fro without major difficulties.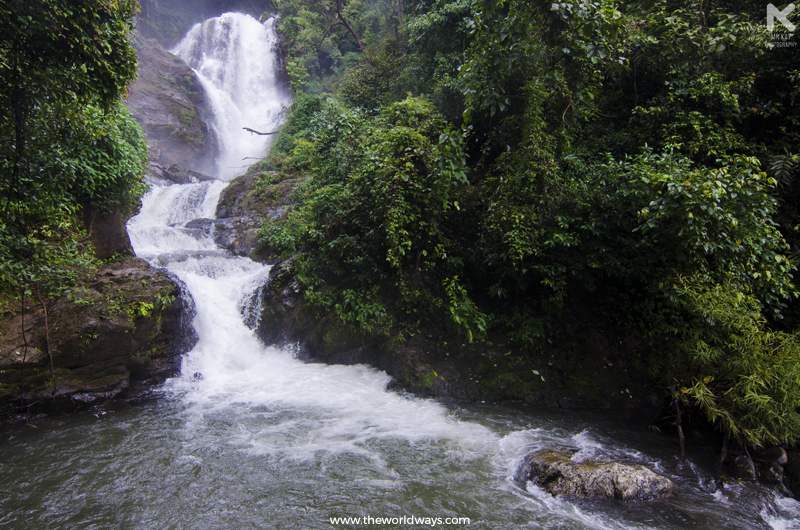 As it was evening already, we chucked our plan to visit Mirjan Fort and returned to Zostel.
August 15th marks the 3rd anniversary of the Zostel at Gokarna. So after dinner, we joined Pradeep who was decorating the lounge with a few other Zostel-ers. And later that night, he taught us Irish Snap, an interesting card game which we played late through the night.
August 15th, 2016
After checking out, while Archana and Aparna decided to spend time at the lounge celebrating Zostel's anniversary until noon, myself and Priyanka left to catch a bus to Mangalore from where we headed back to Kerala in Maveli Express.
*****
USEFUL INFO
Be careful while bathing in the sea, and don't even attempt to step in if you're drunk as it can be really hazardous.
Plan and book well in advance if you want to rent a bike – especially if it's a season or an extended weekend.
Start early (by around 9:00) so that you can cover Mirjan Fort too.
(Visited 630 times, 1 visits today)