On the 29th of February, which happened to be the 'leap' in four years, I departed from a land where I have friends and foes to get to a far away land where I have no friends or foes.
As I write this note from a secluded home stay in Heeru Village, I'm overwhelmed by the facilities as well as the hospitality here. We are accommodated at a really cozy place by a foothill from where we can catch a glimpse of Sunrise every day!
29/03/2016
I sat in an OLA Cab to Bengaluru International Airport and realized that I will be away from my loved ones for a while. A month long break is relatively new to me, but somehow, I felt good.
It was past 10:30; my mobile network vanished into the blue. Several tries that included searching for it manually and restarting the phone went in vain. My friend Archana was also on her way to the airport to join me, but since I had no means to contact her, I waited at the main entrance hoping to spot her green rucksack amongst the prospective passengers.
Thankfully, five minutes later, I spotted her. We checked in and had brunch from the airport cafeteria before boarding our IndiGo flight to New Delhi.
We reached Delhi past 16:30. My mobile still failed to find the lost coverage. In a prepaid Taxi, we traversed towards Nizamuddin Railway Station through the not-so-busy roads of Delhi. With so many rounds where 2-3 roads joined, Delhi didn't seem to be a new place for me.
Our plan was to visit Nizamuddin Dargah and stay somewhere near. We satisfied our appetite from the restaurant seen at the station's entrance. By then, for some unknown reasons, I started getting negative vibes from my first visit to the Capital of India.
There were no accommodation options around the station. We tried looking for the same on Goibibo, but they were out of our budget.
Due to its close proximity to our bus boarding point, Paharganj was our next option. We found Hotel Krishna Plaza at the Main Bazar; near to R K Ashram Marg Metro Station. But then popped up another issue – Archana's bank balance wasn't enough to book the room and since my mobile coverage was out of order, I had no means to receive the OTP even if I use my card. Yes, we were almost stranded in an unknown place and on top of that, it was getting dark. Thankfully, sometime later, Archana's numerous tries to reach her husband finally found its way. We booked the hotel and took a prepaid auto to reach Paharganj.
Busy street and lanes, finally! As soon as I got its glimpse, I felt those negative vibes transforming into positive ones. The well put hotel room impressed us with a wide view of the lively street beneath us.
01/03/2016
After checking out and keeping our baggage at the hotel, we went for a stroll through the busy lanes of Paharganj.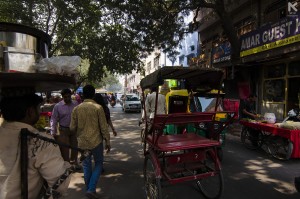 As we entered a narrow lane to get our tickets printed, we met a Sardarji, whom, when asked for name, replied – "Mera naam? Sardarji!"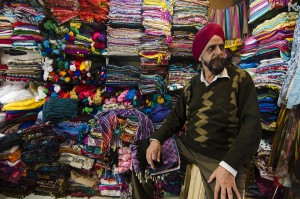 You see, how amazing is it to meet strangers with whom you'll have the best of conversations. How amazing is it to get travel tips before roaming around an unknown city from someone whom you've just met. How amazing is it to even have a thought of that very moment, and feel the positive vibe all over again. On top of all, how amazing is it to travel!
We decided to visit Nizamuddin Dargah and proceeded to the metro station.
At the station, we met Arif, who hails from the Trivandrum, the capital of Kerala. Ah, isn't it interesting to stumble upon someone in a Capital City who hails from another Capital City? While we saw him at first, he was cribbing to his Mother about the presence of ajinomoto in everything he ate; even in juices!
An autowala named Harjit Kumar took us to Dargah from Mayur Vihar metro station.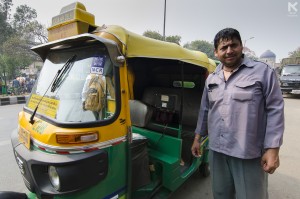 After a stroll through the chaotic busy lanes around Dargah..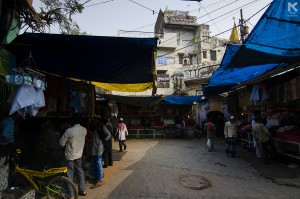 ..we took a bus to reach India Gate.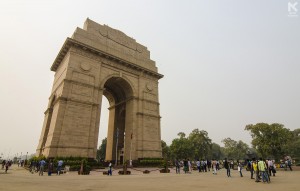 Apart from being yet another touristy place, India Gate is nothing less than a boring place. So without spending much time around, we took an auto to Pragati Maidan station to catch a metro back to RK Ashram.
Post lunch, we took our baggage from Krishna Plaza and left to catch our overnight bus to Dharamsala.
02/03/2016
I woke up at Kangra, en route Dharamsala. Amit, through whom we had booked our home stay was waiting for us at Mcleodganj bus stand. We were welcomed by Dada, a gentleman, probably in his late forties at the home stay. With him were 3 dogs – Pepsi, Virus and Kachchu.
By a foothill stands our home stay, with an amazing view of Triund and a small portion of Dhauladhar Range that spans from Indrahar Pass to Moon Peak which we get to see right from our bed.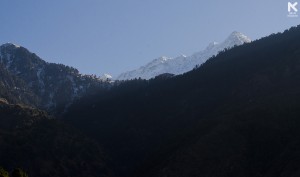 Food will be prepared by Jhampu and Sudarshan – a Tibetan and Indian cook respectively. The front balcony gives a distant view of Dharamsala town with the famous Cricket Stadium in its middle. Illiterati Café, one of the best cafes in this place can also be seen from here.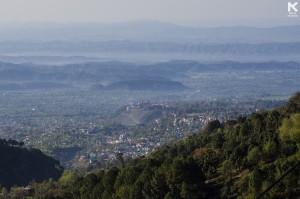 For the major part of this vacation, I will probably laze around in this room and premises, contemplating, watching those mountain ranges playing hide and seek through clouds.
As I end this note sitting at Lhamo's Croissant, a roof top café in Mcleodganj Town, I'd realized that we are losing track of time here. I now even fear of a swift passage of thirty days. But come what may, I hope to have the best days of my life here.
(Visited 384 times, 1 visits today)