Writing about a 52 day long vacation is quite a tiring and boring task – both for me as well as for the reader. So I thought of coming up with a series of photo-chronicles titled Himachal Pradesh – Chronicles V.1 that can describe a major part of my travel and stories connected to it.
If you've read this article which was posted on the first day of my trip, you know how this trip came into being. It was a two-year-old dream finally finding its way through. On top of that, The Himachal Pradesh Ways will give you an account of my travel from the Southern to the Northern land of India.
2nd March, 2016
The fulfilment of my two-year-old-dream officially came to an end at a cozy home stay by a foothill at Heeru Village in Mcleod Ganj from where we can catch a glimpse of Sunrise every day. We also have the view of Triund and a small portion of Dhauladhar Range that spans from Indrahar Pass to Moon Peak.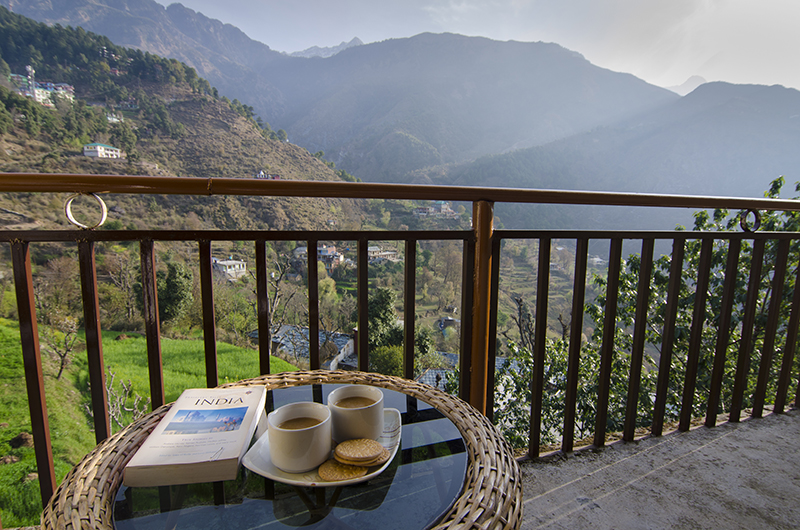 4th March, 2016
Lying at about 2 kilometers away from the busyness of Mcleod Ganj, St. John in the Wilderness is an ancient church which was built in 1852. Although it survived the Kangra earthquake that took place in 1905, the Bell Tower was destroyed and it was later replaced by a Bell which was brought from England in 1915.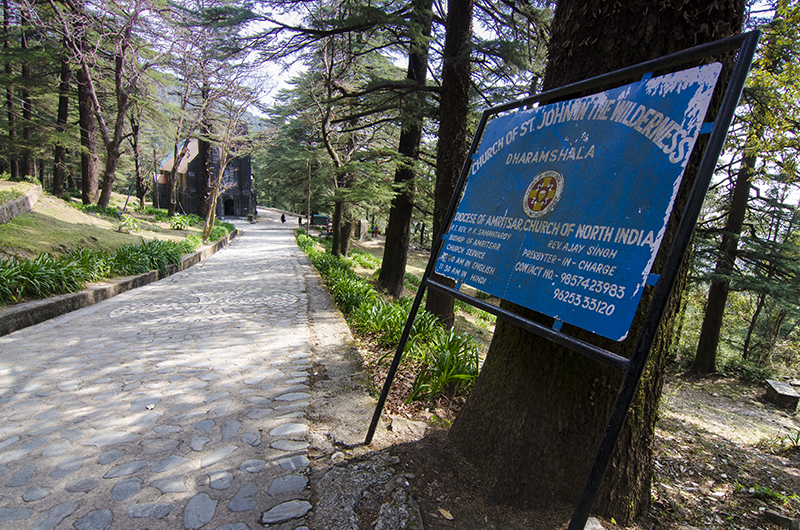 It's said that, if one is passing alone at night by this cemetery by the Church, he/she can spot a girl asking for lift to the nearby cremation ground where her brother is waiting. This can also happen vice-versa (brother asking for lift to see his sister) if one is coming from the Mcleod Ganj side. You can read more about the story here.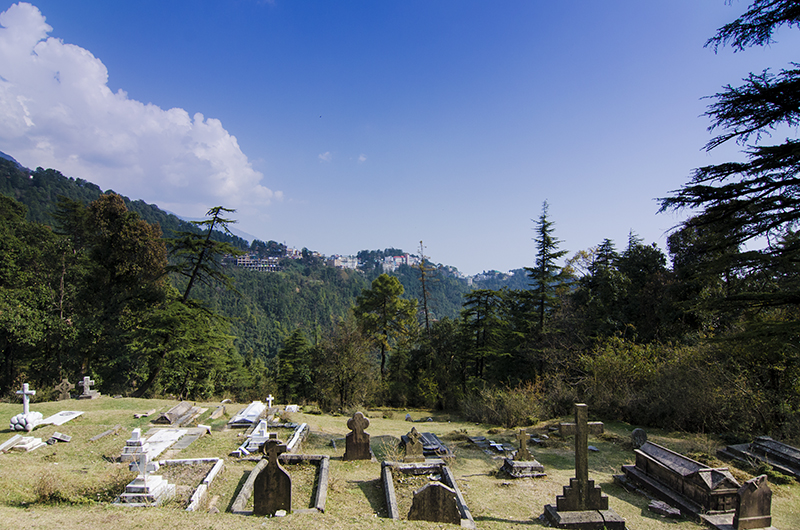 Later that day, we went to Illiterati to meet Abhinav and got acquainted with Manil, Gurveer as well as Chaitra.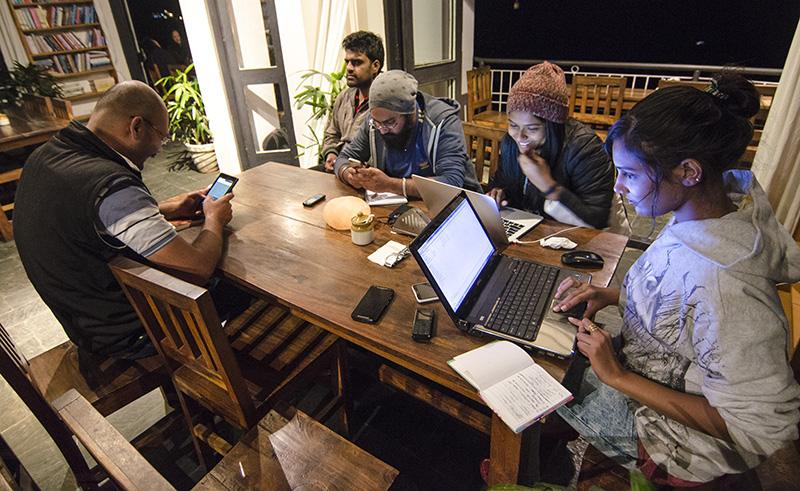 5th March, 2016
We were in our room, with the curtains on so that Archana's designing work won't be affected by the sunlight that's falling onto her laptop screen. After some time, as we randomly looked past the balcony, we were dumbstruck to see the foothill to completely be covered with fast paced fog.
As Archana remained in the room to do some freelance work, I left with Manil to trek down to a stream near our homestay; and it turned out to be a great experience.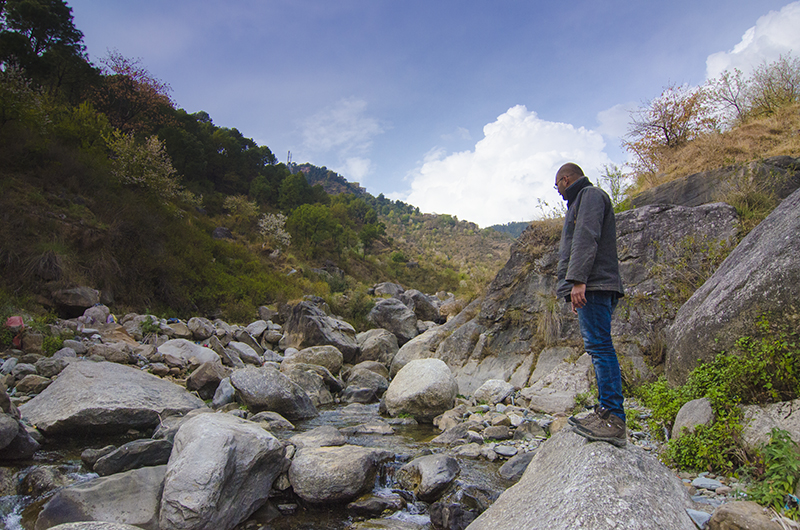 6th March, 2016
A video that was compiled with a set of video footage which was shot solely on a Xiaomi Yi Action Camera while we set out to explore a secluded waterfalls that lie in the outskirts of McLeod Ganj.
8th March, 2016
The day was about going to Naddi with Abhinav, meeting one of his friends Mudita, sipping coffee made by her overlooking those mountain ranges, following him through many forest trails all the way to reach back at McLeod Ganj and later, attending the poetry slam at Illiterati where he performed twice.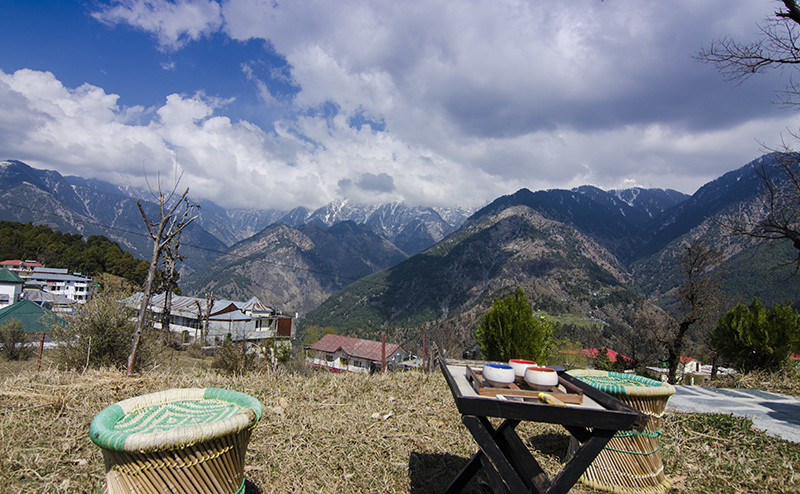 Transforming a dog-hater, or any pet in that case, into a non-hater. Yeah, that's what the positive vibes of a place do to you. The three dogs at our home stay were Pepsi, Virus and Kachchu. Pepsi, the ten year old, is deaf and mostly quiet; and although being friends, Virus and Kachchu can always be seen fighting.
Unfortunately, one week before my return, Pepsi passed away.
P.S: That's Virus in the pic.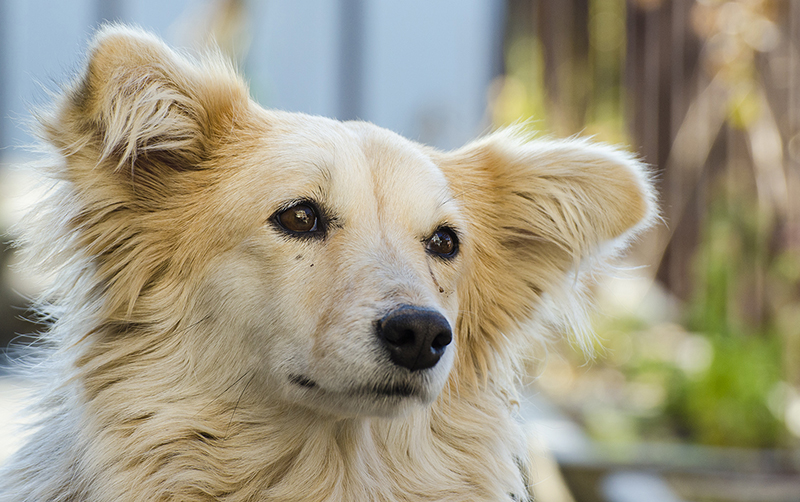 9th March, 2016
The night we reached Himachal, as Archana and I stood gazing at the snow-capped Moon Peak from our back balcony, we spotted a bright star down to its right. It was dark and we couldn't really figure out whether it's sky or not. Wondered and confused about how only one star shines so well amongst many others, we slept. The next day, we figured out that it's not a star, but a light at a temple shining all through the night. Locally known as Latte Matha Temple, where latte means dreadlock, it stood far away as a white dot amidst greenery.
Days later, from our homestay, we trekked all the way to the 'star'. The trek was long and tiring, but as we reached the destination, we realized how mountaineers would feel when they conquer Mt. Everest! Even though I'd done Triund, now when I look back, Latte Matha was one of the best treks I'd done till date.
P.S: Atop that pole is the star in disguise, powered by solar energy.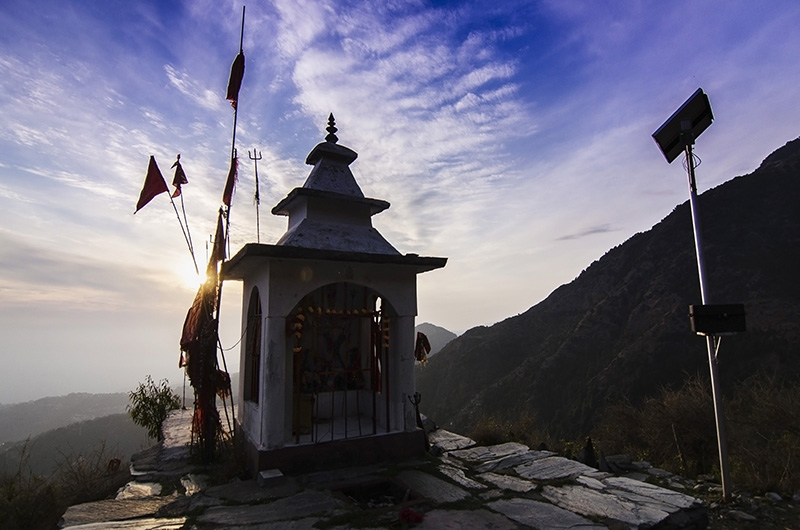 11th March, 2016
The beauty of Mcleodganj lies in the people there. They're always smiling, welcoming and so full of life. The positive vibe and togetherness can be felt when a random person smiles as they walk past you. This was shot at a really small shop near our home stay in Heeru Village. The Aloo Paratha here is the best I've had in my life. I mean, we do get good food at our home stay, but the Paratha and Lemon Tea they have is incredible and cheap, that, we often went there to have it.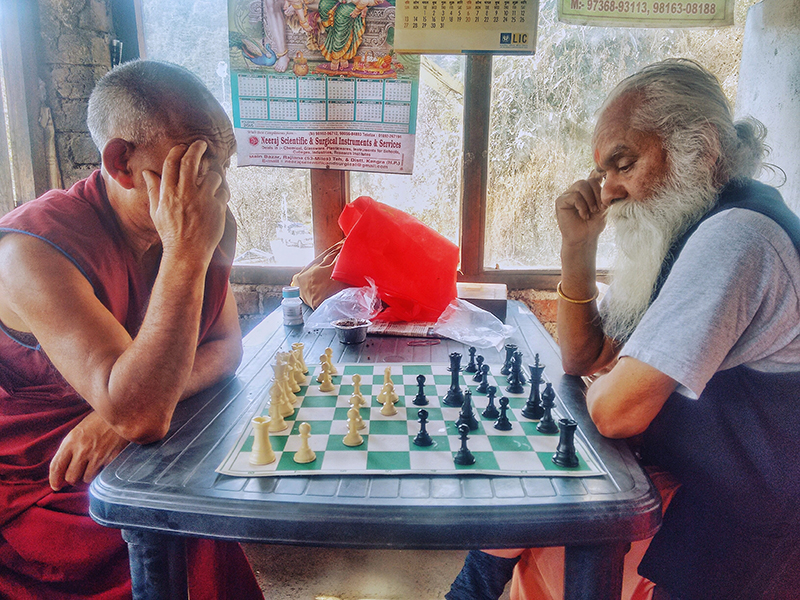 Standing amidst many colorful buildings, this is how the famous Himachal Pradesh Cricket Association Stadium in Dharamshala looks like. After a heavy rain, the view from our homestay looks to be crystal clear as the fog gets to be washed away.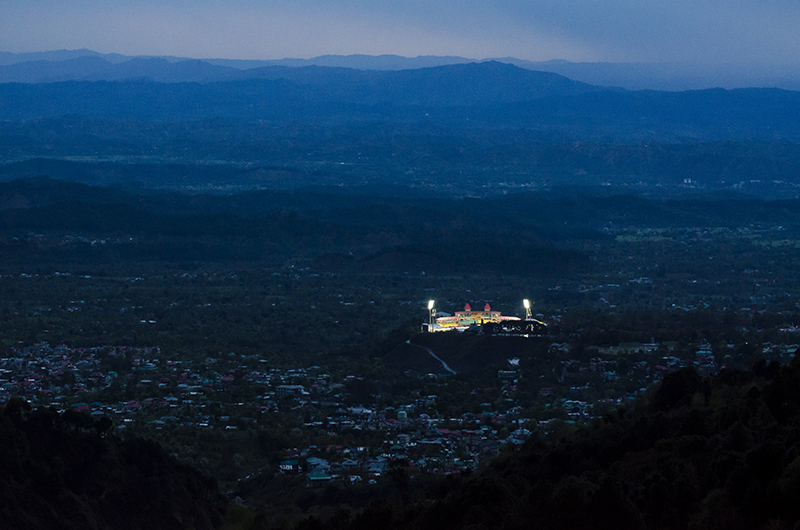 13th March, 2016
My second trip to Naddi and first trip to this beautiful and secluded place.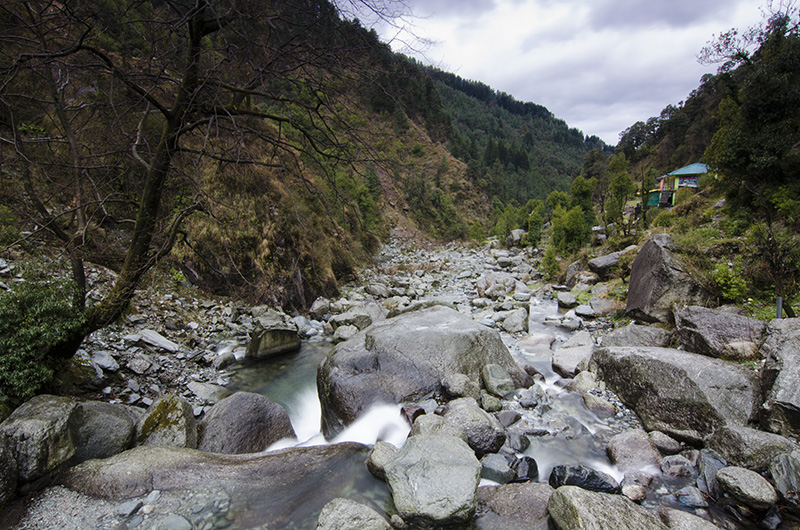 14th March, 2016
Breaking my sleep-routine at Mcleod Ganj, I woke up early and left to the stream (which I went with Manil) with Priyanka. In the process, we lost our way, got stuck in rain and ended up reaching at this small bridge that connects our mountain to the adjacent one. As we moved ahead, we realized that we had almost reached Dharamshala, the city lying down our mountain.
Although it was long, the walk was worth remembering.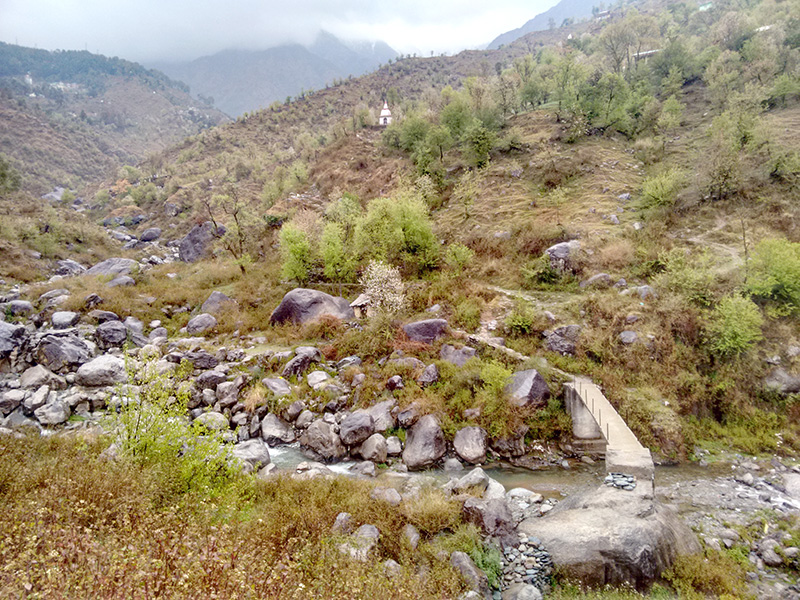 The winter rains never stopped for two days. It was gloomy and we were trapped at our homestay for all day long. But then, when the Sun showed up, Gurveer came up with a plan of heading to Norbulingka Monastery at Dharamshala. Without a second thought, and with only the thought of going somewhere when the sunlight finally resumed, I said yes.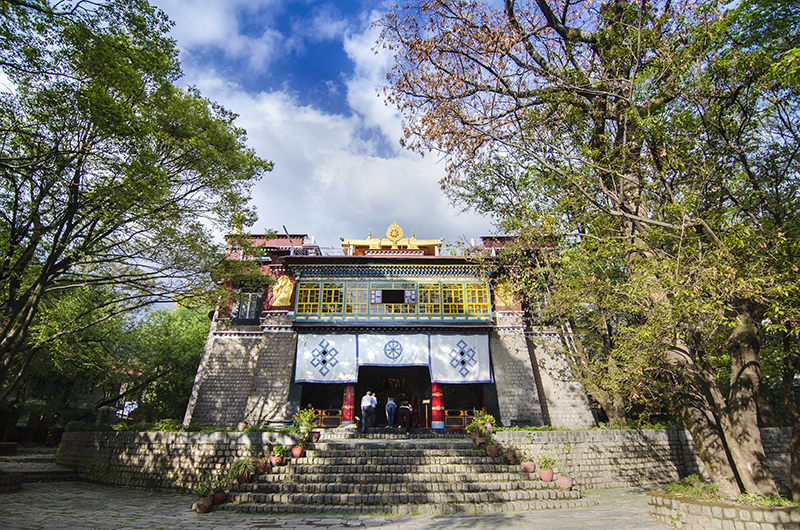 After the monastery visit, we went to Aghanjar Mahadev Temple where the fire keeps burning all the time. From there, we rode up a mountain to reach at a Sunset Point. But instead of catching a glimpse of Sunset from the commonly known point, we walked further to climb the nearby hill. Just as we stopped at its top, I was awestruck to see this view. All while trekking up, even though Gurveer told me that I'll get to see a breathtaking view of a peak, I never imagined seeing something like this.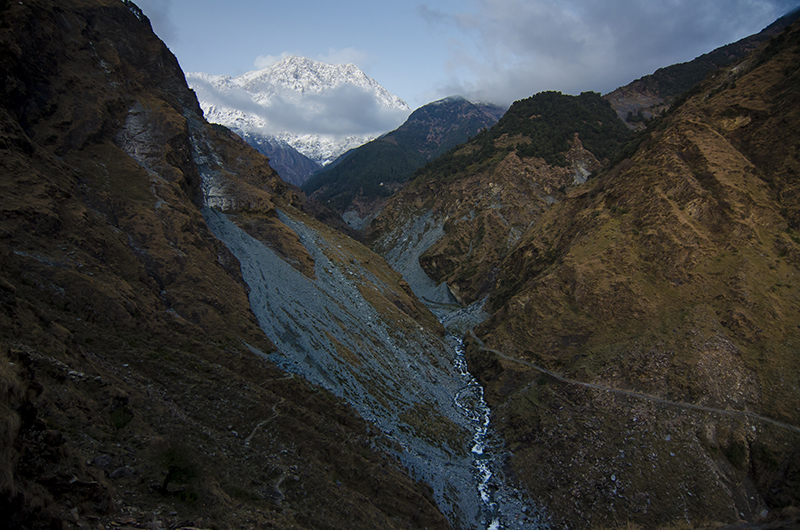 17th March, 2016
After having a loooong bath at Tatvaani Hot Spring, we went to Masroor Rock Cut Temple which is said to be built by Pandavas during the exile from their kingdom. The pond in front of the temple was built for Draupadi, wife of the Pandavas. There are also stories associated with its unfinished structure.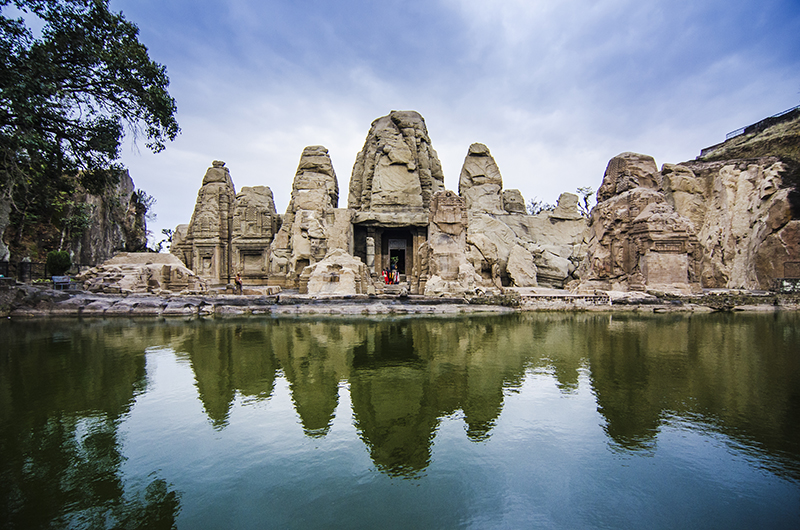 18th March, 2016
To yet another least explored spot in the outskirts of Mcleod Ganj – which is locally known as 360 degree viewpoint because of the view it offers.
The featured image of this post is also from the same spot.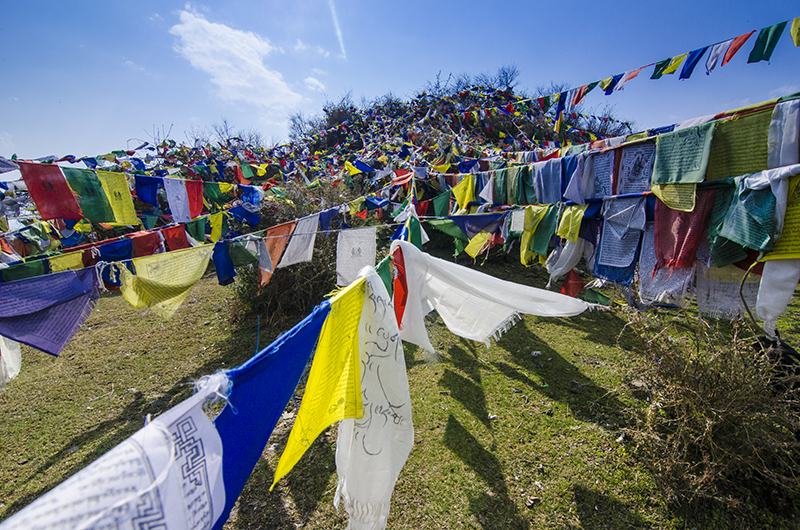 ..to be continued. 
(Visited 481 times, 1 visits today)