Organized by ThatKeralaLife and Wayanad Tourism, when us, 12 Instagrammers from various walks of life got together to go way beyond and experience the beauty of Wayanad during a weekend, it turned out to be a fun-filled and thrilling experience. As Wayanad DTPC's tagline goes, it was all about going way beyond in Wayanad, one of Kerala's most beautiful tourist destinations.
A major part of our expenses were covered by DTPC and since we had the special permission from authorities, we were granted with prime consideration at the destinations. A huge thanks to the DTPC officials for arranging everything and treating us with their impeccable hospitality.
24th September, 2016
An hour late to our scheduled time, at 11:00, we gathered near the Chain Tree at Lakkidi View Point from where we drove to our first destination – Karlad Lake. According to the itinerary by DTPC, we were to do the adventure activities in there – Kayaking, Zip-lining and Rock Climbing.
Needless to say, they were fun-filled and was totally a new experience to all.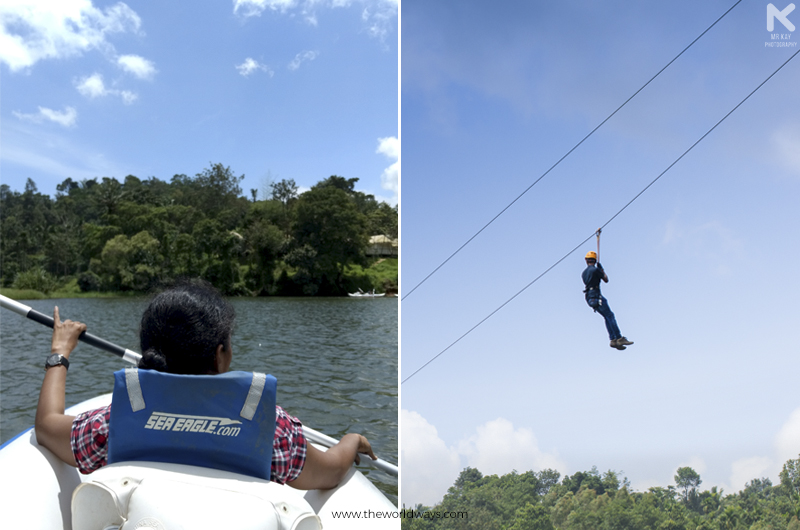 Post lunch, we headed to Banasura Sagar Dam – named after Banasura, the Son of Mahabali. It's said to be India's largest Earth Dam and inside the reservoir, there are a set of islands that were formed as a result of water submerging its surrounding areas. Beyond that, there is the view of mountains covered in fog to treat your eyes.
We got into the boat named Kabani Theeram and since we were representing Wayanad DTPC, the driver took us to the interiors of the Dam which is not usually included in the boating route for tourists. Every ride ends with an electrifying drift, and ours was nothing less. But as he was about to do the third and the final one, the other boat with fellow Instagrammers came by and he had to pause.
The real intensity of the drift isn't really visible in this video, but you can see the driver and Rishikesh looking to see whether I'm still there after the first drift.
The day's stay was arranged amidst the lush greenery of Priyadarshini Tea Environs, a venture by Wayanad DTPC. Our tents were already pitched by the time we reached. It was getting cloudy, but none of us were moody for that reason and we decided to camp regardless of our doubts about rain.
The morning rain had made the land wet, and hence, our one hour long try couldn't even ignite the camp fire. But later, Aman and Ajmal got dry woods from the base camp along with some kerosene and lit the fire.
After a delicious dinner comprised of ghee rice served with chicken curry, pickle and salad, we gathered around the campfire to sing random songs while Suhail danced to 'Aayiram Kannumai'. As we retired for the day, the only thing in our mind was to get a good night's sleep without the hindrance of rain or leeches.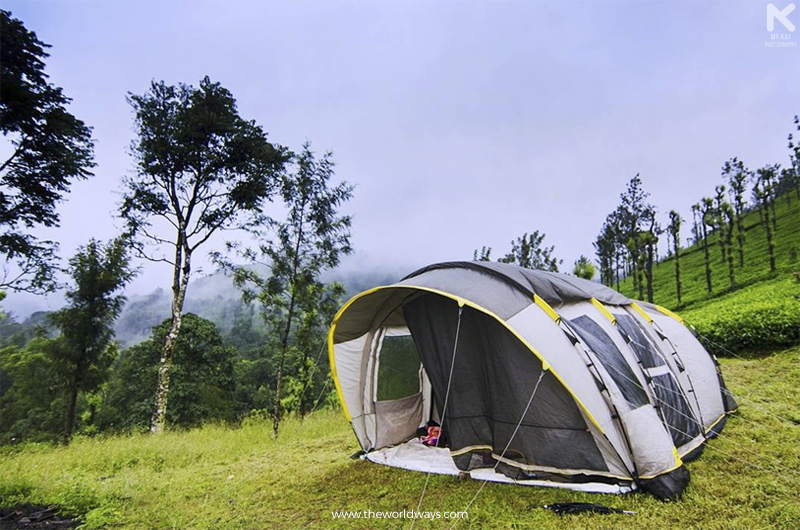 It started to rain during the early hours of night and our sleep got interrupted. The rain, combined with heavy wind tried to shatter our tent which was pitched on a small slope.
Wind caused to detach the ground pegs thereby making channels for water to flow right into our tent from all directions. Musheer and Ajmal tried their best to fix them, but the wind and rain were forceful enough to not let that happen. When we finally realized that we're left with no other option, we slept in a hope that no major mishap would happen.
Unlike our 8 pax huge tent, the other one was relatively small with a capacity to accommodate 4 and since it was pitched on a flat land, they haven't had any issues throughout the night.
Rain ceased after some time and we were able to get some sleep; but later in the morning, Firoz woke up with a leech clinging on to his right cheek!
25th September, 2016
It was drizzling as we took the trail lying adjacent to our camping site for a morning walk. Leeches kept crawling to our feet and the more we stopped, the more it started to cling on.
With short photo-breaks in between, we moved through that fog covered trail which was nearly hidden inside 6 feet tall grass grown on both sides. The fog combined with brisk plantation air kept us fresh and it took us to the view point which had a non-obstructive view of the tea environs.
Our second day's itinerary was to visit Edakkal Caves, Phantom Rock as well as Kanthanpara Falls. But during the camp fire on Day 1, as everyone showed more interest in visiting Chembra Peak, we ditched our itinerary.
After getting tickets to trek, we started by 13:20 and a 15 minute walk took us to the official starting point of the trek. The muddy and slippery trail through tall grown trees was a bit tricky, so we had to move carefully. The milieu changed in about 10 minutes as I reached an open land; but regardless of the Sun, the terrain was wet and it got slightly tougher as the ascend became steep.
With 3-4 short breaks in between, it took a total of 35 minutes for me to complete the first stretch. This in fact is the toughest part of the trek where one needs to put a bit of effort and care to trek up. But worry not, the views are enough to relax you.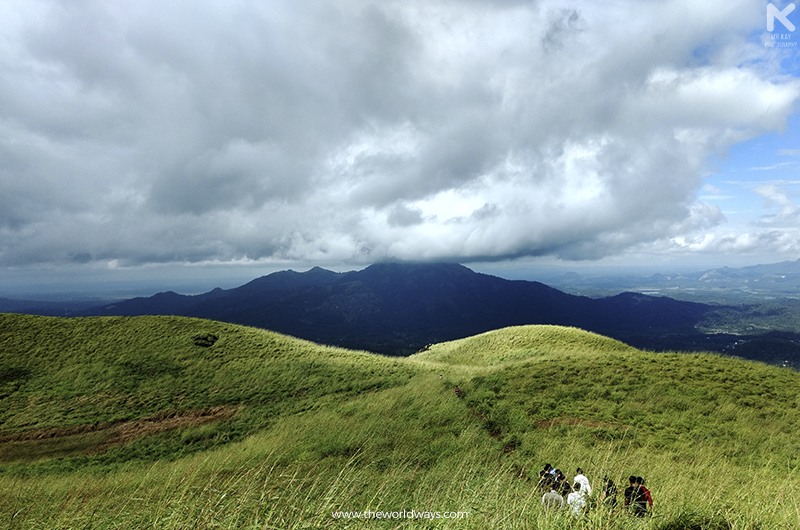 The second and last stretch was not as difficult as the first one, and the views were gorgeous. Down in the vastness of that green land, I could see our parking lot as a tiny spot and that gave me a sense of the altitude I was at – 6730 ft above sea level.
It took about 12 minutes for me and Musheer to complete the trek. It was sunny as I walked past the famous heart shaped lake to the view point. Without spending much time there, I decided to return. The moment I packed my camera bag, clouds went dark and it started to drizzle. I fastened my steps to reach the lake before it gets to be covered in fog; and thankfully, I could.
Others had also reached the top by then; but unfortunately, they couldn't get a clear view of the lake. Many of them, especially Geo was sad for the fact that he couldn't even get a glimpse of the lake after trekking all the way up enduring an ache on his right heel.
It was past 15:00. The guards had started asking everyone to return and as we were about to, within the fraction of a second, the fog got completely washed away and the lake was visible!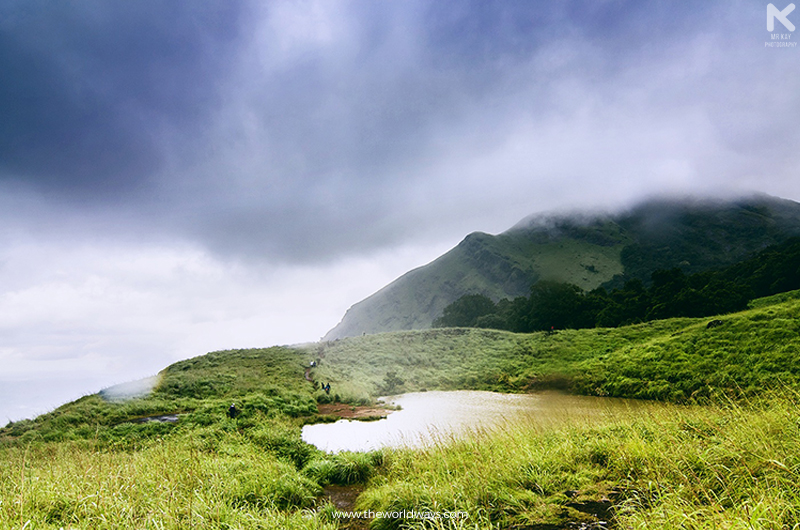 The descend wasn't tough as I thought it'd be. It was a bit slippery, but with a bit of caution, we were able to get back to the base within an hour sharp.
The trek had stimulated our appetite along with the light shower. We stopped at the small tea shop near our parking lot to have hot Maggi and Tea.
We got back to Kalpetta bus stand by dusk and bid goodbye to each other hoping to meet for more awesomeness in the future.
*****
Once again, thanks to Wayanad DTPC for making this happen. It was truly an experience that was way beyond for each and everyone of us.
(Visited 575 times, 1 visits today)