The alarm woke me up to the sound of a heavy downpour – something which was unusual considering those last couple of days. I sat on bed, slightly worried about the day's plan. But soon I made up my mind and decided to head for the day's destination – Illikkal Kallu.
Illikkal Kallu gained popularity in the span of past one year through Facebook and a few travel blogs. I still remember reading about the place in a Facebook travel group and adding it to my travel bucket list. Hence, due to its increasing popularity, roads to Illikkal are now well tarred with signboards kept at major points.
*****
At about 3400 feet above sea level, Illikkal Kallu is one among the highest peaks in Western Ghats and is situated above Illikkal Mala, thereby giving its name. Half portion of the Kallu had fallen off thereby giving it a horrendous look. The Kallu (which means rock in Malayalam) comprises of three Kallu-s. Apart from Illikkal, the other two rocks are Kuda Kallu (Kuda being umbrella) and Koonu Kallu (Koonu being a hunchback). Across Koonu Kallu, there is a half feet wide narrow path called Narakapaalam which means bridge to hell – the name comes from the hazardousness it possess. Illikkal Kallu is also known as Kolliyaan Paara (Lightning Rock) due to its probability to lightning.
Popular belief also says that the famous medicinal herb Neelakoduveli grows here, which has supernatural powers and can increase wealth. Atop from the Kallu, one can get a panoramic view of Kottayam district and on a clear day, Arabian Sea will be visible far in the horizon.
25th August, 2016
I waited at the bus stop for about 20 minutes hoping to board a direct bus to Kottayam and join Sumi at the bus stand – but I couldn't catch any. So I took a bus to Changanassery, and from there, took another bus to Kottayam. Sumi had already arrived and I was half an hour late.
Next up in our plan was to head to Poonjar where we will join Navaneeth. But again, since we couldn't find a direct bus, we took a bus until Pala, and took a bus to Adivaram which will ply through Erattupetta and Poonjar.
After a late breakfast at around 11:00 from Navaneeth's home, we headed to Illikkal Kallu through the Erattupetta – Teekoy – Adukkam Road route.
It was noon already. As we drove through the beautiful winding road to Illikkal Kallu, arrays of mountains stood behind swiftly moving fog. Sumi suggested parking our car half the way and cover the rest of the distance by foot. As we walked up, the fog began to become thicker to a point that the person standing even a few meters away couldn't be seen.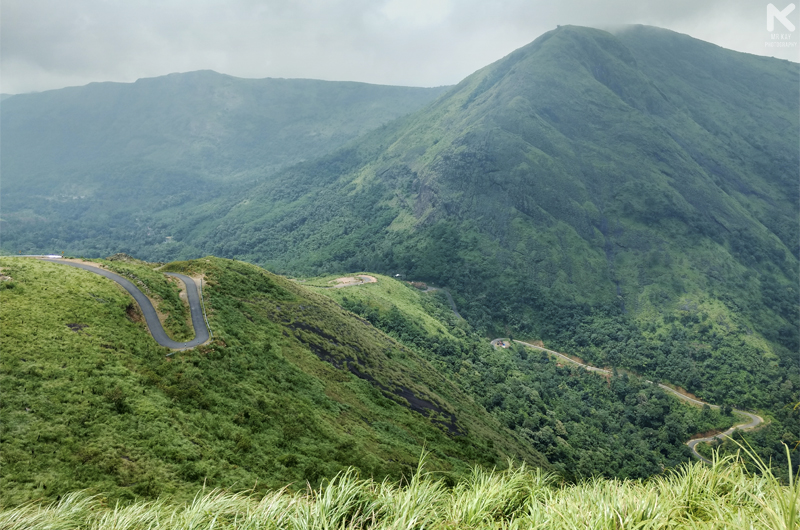 We climbed from the starting point a bit and sat atop a rock so that the fog will get cleared. Parts of Illikkal Kallu could be seen at times as the heavy wind kept moving the fog towards left. At a point when finally the wind took all the fog away, I saw it for the first time, the gigantic and dreadful Illikkal Kallu.
While Navaneeth and Sumi stayed back, I climbed down and walked through the narrow path towards Illikkal Kallu, desiring to see the famous Narakapaalam and if possible, try crossing it to enter the cave. As much as the view is scenic, since the path gets narrower towards the Kallu, it can be a bit scary; and if heavy wind is there, it gets to be much worse.
Each step carefully placed, I reached the point from where one has to climb a rock before attempting to cross the (in)famous Narakapaalam impotenciastop.com. But back then, I was unaware of this particular route – so I stood there in a dilemma of what to do next.
I shot a few pictures and waited in the hope to meet someone, probably a native who can guide me.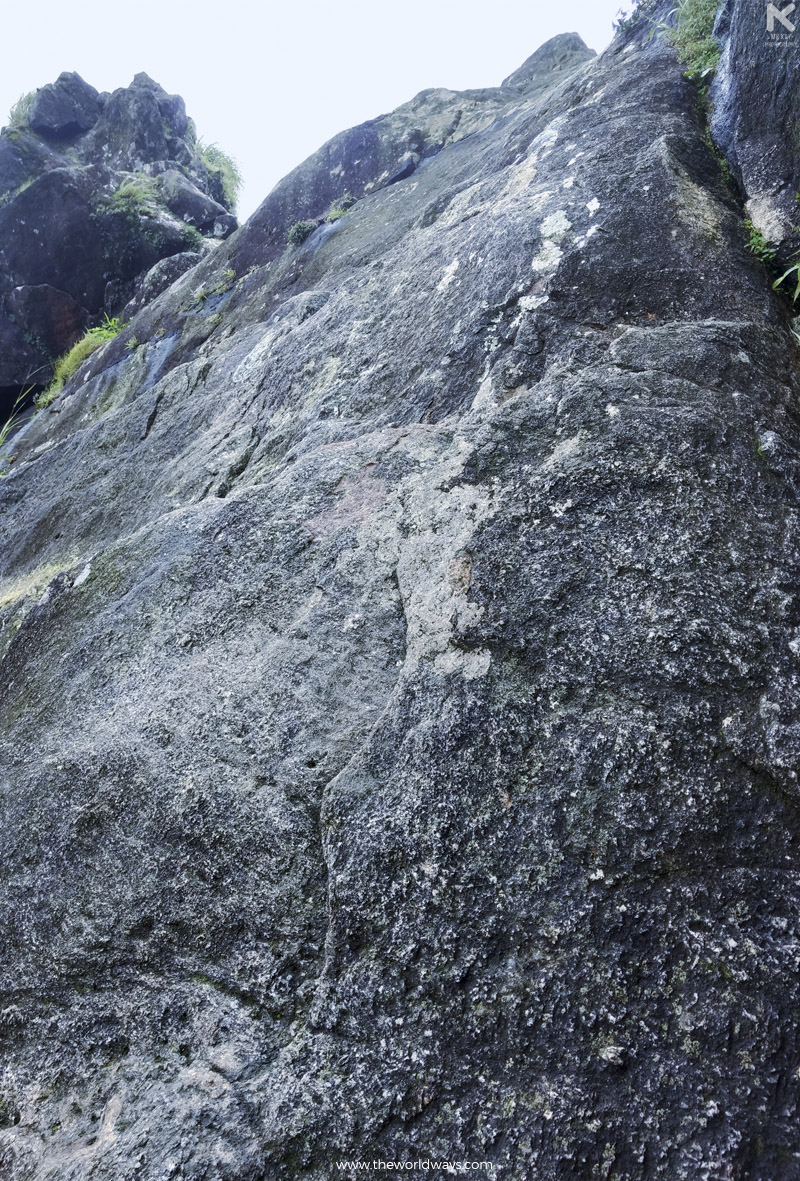 After about 15 minutes, a guy came and started climbing up. But since I saw a narrow ridge a few meters ahead of me, I was still in a dilemma whether he is right and to follow him or not. By this time, he already reached the top and had disappeared. I sat on a nearby rock, utterly saddened for the fact that I couldn't even find a way to see Narakapaalam.
I then heard Sumi calling out my name – probably because it's been some time since they've seen me. I walked back a few meters, waved her and asked her to come down. A couple of minutes later, she joined me. I took my shoes off and tried to climb, but the jeans restricted me. I gave it a few more tries, but failed. In the process, Sumi started refraining me from going up considering its risk. I sat on the rock, regretting my decision of not following the guy who went ahead. Moments passed and we saw him returning after entering the cave through Narakapaalam.
If had a company then, maybe I'd have climbed up and crossed the Paalam somehow. Because according to me, it's always good to be with someone who knows the place in situations like this. Like if the Kallu gets covered in fog within the time one reaches up there, the only thing he can do is to wait, wait..and wait. Additionally, chances of lightning becomes high.
When a group of drunkards came abusing each other, we finally decided to return considering our safety. I left the place with a self-promise to come back with someone who had crossed Narakapaalam at least once.
Ilaveezhapoonchira – The Pond of Flowers Where No Leaf Falls.
No one of us were really hungry. We munched some snacks and drove to Ilaveezhapoonchira through Pazhukkakanam – Nellappara – Mechal – Mayapuram route. As the name goes, Ilaveezhapoonchira is said to be the pond of flowers where no leaf falls.
Upon an enquiry at a shop, its owner, Joy, aged around 70 agreed to take us up in his jeep for Rs. 800/-.   A decently built road transformed to an off road soon. Joy Paappan's experienced hands drove us safely to the Poonchira viewpoint.
Well, if you're experienced enough, you can reach Poonchira in bike too.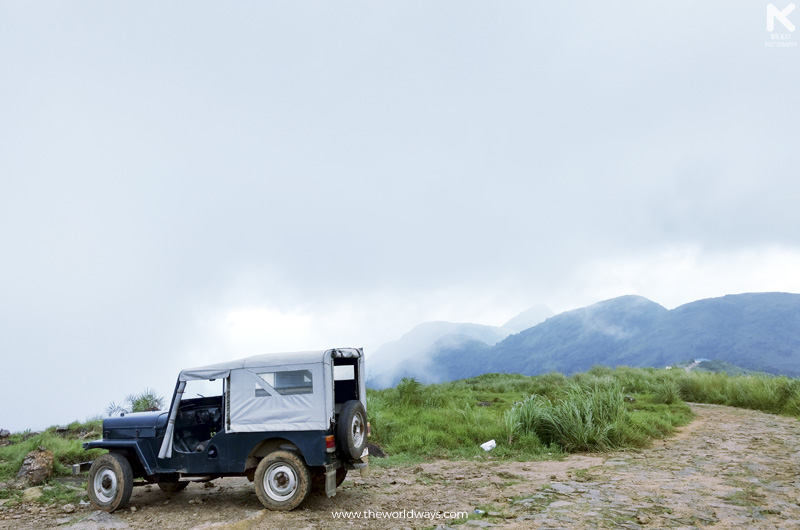 I followed Navaneeth to the nearby rock, while Sumi stayed with Joy Paappan who detailed the view to her.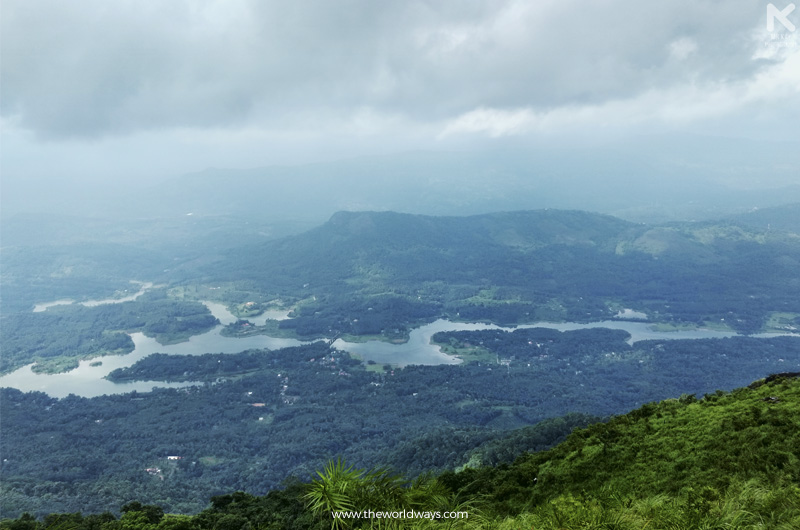 We also visited the nearby Police Wireless Station which manages the wireless transmissions in the adjoining four districts. Mankunnu, Kodayathoormala and Thonippara are the three hillocks that surrounds Ilaveezhapoonchira.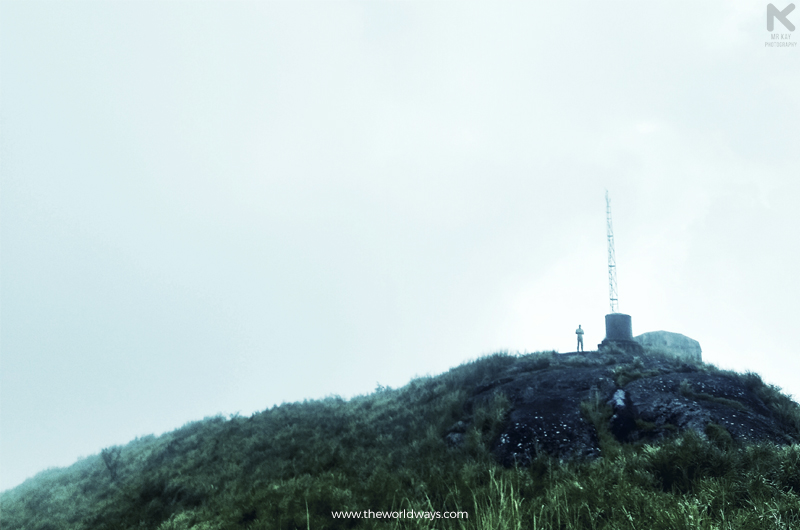 We got back to Mayapuram in an hour's time and bid goodbye to Joy Pappan. Navaneeth dropped us back at the Erattupetta KSRTC bus stand and we were able to get a Kottayam – Changanassery bus back home.
*****
USEFUL INFO
Entry to the top of Illikkal Kallu is now restricted due to an accident (second one in 2016) which resulted in the death of a tourist on the 18th of September, 2016.
A car accident was also reported on September 26th (as seen in a Facebook travel group) due to brake fade.
The road to Poonchira is being tarred now and hopefully, it will be completed soon.
(Visited 1,292 times, 1 visits today)