If you've read The Kolukkumalai Ways, you can pretty much guess why I would have headed to a destination where I've been recently – not in less than the span of one month. When Sumi asked for a weekend plan during her vacation in Kerala, I suggested Kolukkumalai and Chokramudi. But since she was appealed with the photos I'd shared earlier from Kolukkumalai, we decided to put Chokramudi on hold. In fact, this was planned even before my first trip to Kolukkumalai; so yeah, the first one was almost like a recce.
*****
16th January, 2016
We took the Trivandrum – Munnar Superfast to reach Munnar by 9:45. Post having breakfast from Munnar town, we boarded a Theni Private Bus and got down at Power House bus stop from where we hired a jeep to Suryanelli town for Rs. 100/-
It was 13:00. I called Raja, a jeep driver through whom I had booked our accommodation. We had to wait for about half an hour for him to turn up, but when he finally did and took us to the room, I was kind of surprised. Contrary to what I had in mind (a small room somewhere away from the town), the room was right at the center of Suryanelli village and had a super cool view of the Kolukkumalai peak!
In a plan to go out for a stroll by the time of Sunset, we took a nap.
*****
From the room, we walked for about a kilometer in search of a Sunset view point. At first, we went on to explore a small village by taking a steep downward path that laid left to us, but since the place didn't offer anything exceptional, we resumed the main route.
As suggested by two native women, we headed further to catch a glimpse of the Sunset from a tall building that lay a few meters ahead. But apparently, the building was under construction and locked. Keeping aside the idea of trespassing, we struggled to climb up to the adjacent land where there was a bunch of eucalyptus trees. The Sunset wasn't visible from there either, but we got to see a not-much-seen view of the famous Anayirankal Dam through the woods.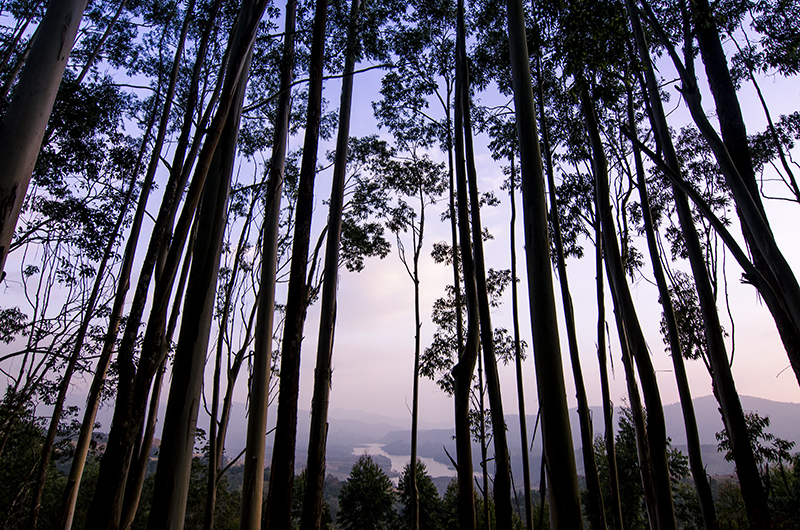 Post Sunset, we thought of proceeding further down through the main road. It was getting dark. There was a cardamon plantation to our left and we saw two workers entering its premises. As we walked a bit more, we saw a mudded path that lay to the left. From its very appearance, we were sure that it leads to Anayirankal Dam. We were kinda disappointed because the spot looked to be a good Sunset view point – something we looked earlier for. But since digging what's happened wasn't worth it, we let go off that thought.
We wanted to explore the pathway, but since it was getting dark and as we were unsure of wild animal inhabitation in the locality, we stood there in dilemma. We even picturized encountering elephants on the way since Anayirankal means Aana + Irankal – where elephants come to quench thirst!
Come what may, we finally decided to take up the route. It was getting darker. We walked a few miles to take a left turn and the pathway still looked pretty long. It wasn't fear, but considering our safety, we decided to return.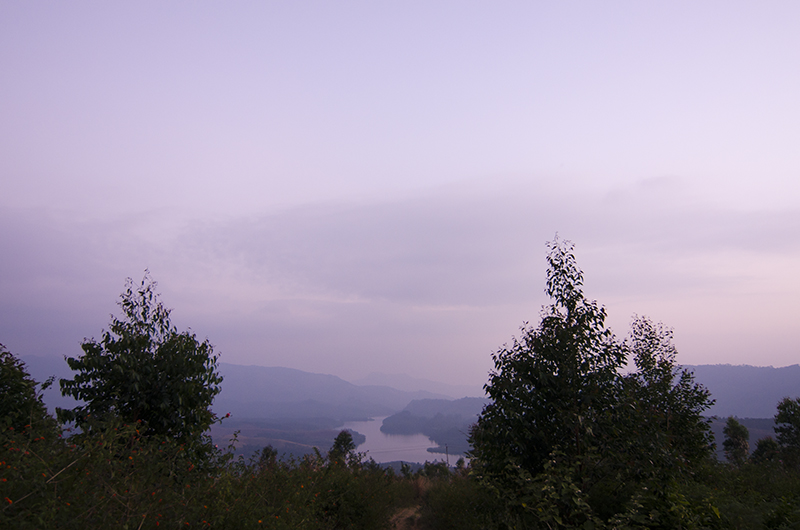 Back at the main road, we waited for an auto rickshaw/jeep to hitchhike. A few of them passed by, but all were occupied. Finally, we got an auto rickshaw that had only one passenger in it and we were dropped back at Suryanelli by 19:30.
*****
17th January, 2016
We started by 4:35 and proceeded through the rock-laid bumpy road. Beneath us lay Munnar, all lit up. It was around 15 degree Celsius.
At 5:45, we reached top. There was a slight red hue in the sky already. Raja parked the jeep while I setup my camera on tripod. The jeep had some nice trippy lights inside and it gave me an idea for a frame. By including the jeep in foreground, I tried shooting star trails.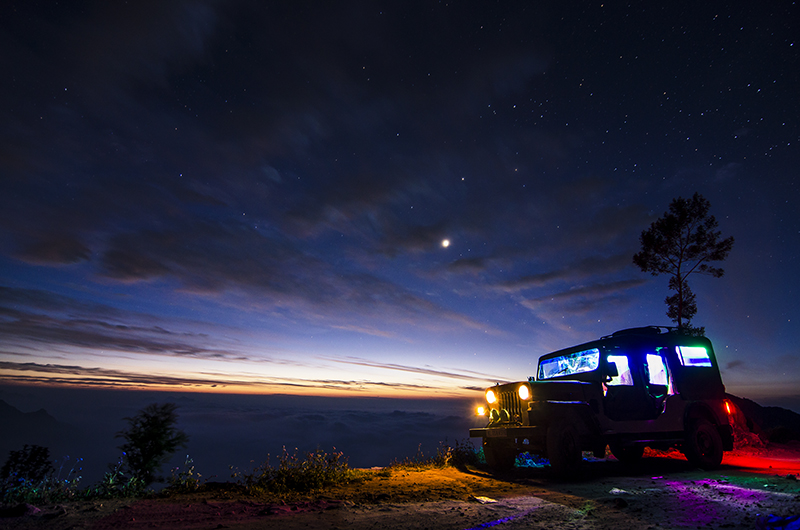 Sumi was inside the jeep, listening to Raja narrating about the trek options to Meesapulimala – where a song and some major scenes of the Malayalam movie Charlie was shot recently. My long exposure shots turned out to be okay-ish. As more jeeps came by, there was an uneven distribution of light and that made photos look a bit odd. So I thought of changing the frame and stepped down to the plantations area where I found a good spot. I also set up my mobile to shoot a time-lapse, but in the process of shooting, wind blew it down.
The sky was almost void of clouds but there were subtle hues. The red hue slowly started to become vibrant, thereby revealing the day's Sun. Although the cloud formation was less compared to my previous visit, morning rays streaked from the sky. The land beneath was covered with layers of clouds as the sky up there changed its color to blue.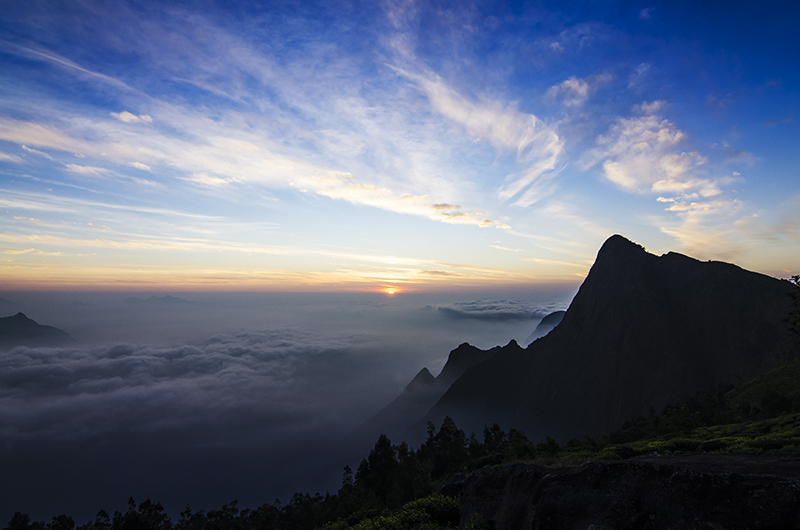 I inquired Raja about the time required to trek up and down the nearby summit and got to know that we have to pay an additional sum of Rs. 400/- as waiting charge. Rs. 200/- will be charged on top of that if we want to visit the Tea Factory too. Since trekking up the summit was in our plan, we decided to keep the money factor aside and go for it.
Raja drove us towards the Tea Factory and showed us a trekking path through the tea plantations. The pathway lead to a small area where the plantation grew in abundance. From there we could catch a glimpse of the famous Tea Factory. Behind it stood many peaks, playing hide and seek through thick layers of fog.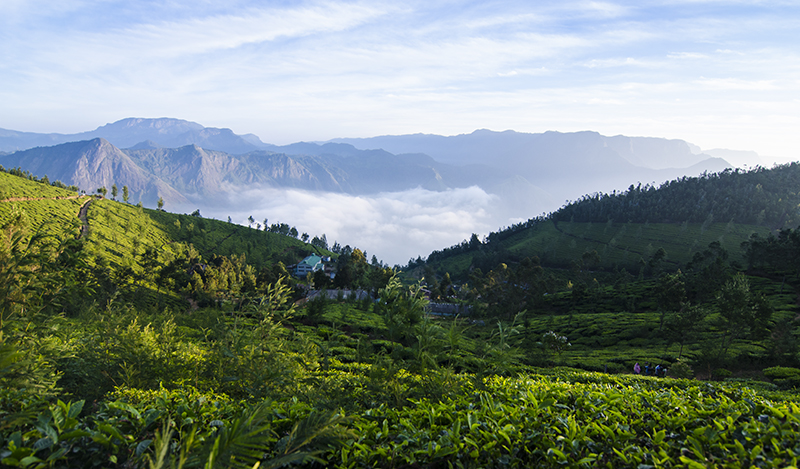 The Sun was rising up as we proceeded. Yet, it was cold. Since we were told by Raja that there won't be leeches, we paced through the tea plantations to a point where the pathway came to an end. But since Raja showed us the way, we were sure that there will be a way to trek up. In hope, we headed by clearing the bushes that blocked our way. We were the early birds to take up that route and hence the milieu looked quite composed except for the howling sound made by a group who were far down. With a ray of hope shining over uncertainty, we climbed further up.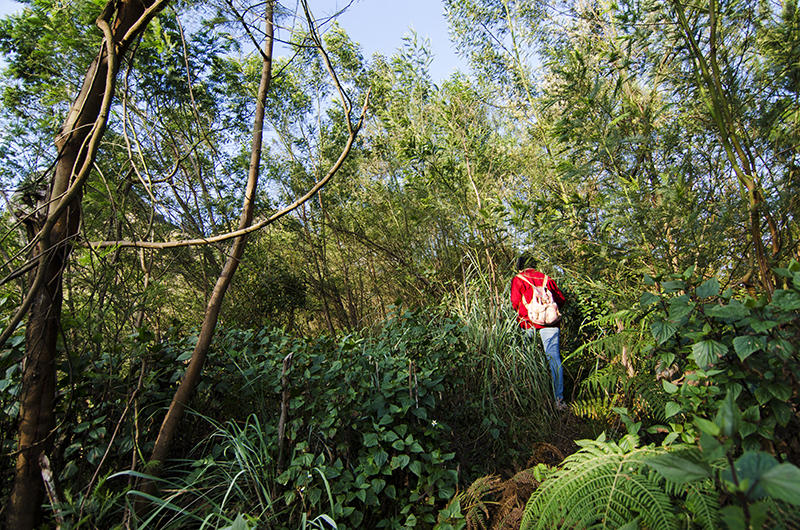 Soon we reached the dead-end. The space was constrained, but the view of two adjacent peaks from that point was breathtaking. I tried to find a continuing path that'll take us to the peak, but it looked to be a bit risky for the day and I had to give up.
As Raja suggested, we took a shortcut through the plantations to the Tea Factory while returning. Munching Unibic Cookies which Sumi had brought, we jumped hurdle like fences and crossed streams to find our way through.
Built in 1946, Kolukkumalai Tea Factory is the highest and oldest Tea Factory in the World.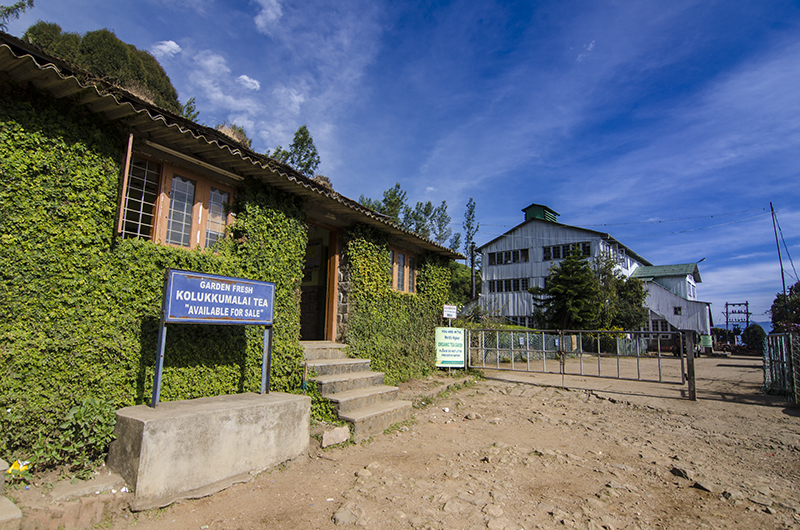 It was a Sunday, but the caretaker offered to show us around with the usual entrance fee.
The interiors of the factory was reminiscent of a bygone British era and their brilliance in building well equipped and long lasting machines were clearly visible. The tea dryer they use even today was made in Gainsborough, England and every activity starting from drying to grinding to filtering is carried out in an old fashioned way. To add to it, a cup of tea from the nearby seen factory outlet is something that one shouldn't miss.
Except for the item sold here, every single packet you get elsewhere is fake, Raja said as he drove us down. The Sun became brighter and Sky became blue-er. We could still see mountains playing hide n' seek through clouds all through the way.
On our way back, we saw groups of youngsters trekking up and saw another group of bikers struggling to ride up. Also, a few bikes parked mid-way was spotted.
We were about to reach the main road, and just as we took a turn, another jeep carrying tourists came in the opposite direction. It blocked our way and the driver asked us to move back. There was enough space for it to pass, but he insisted Raja to move backwards.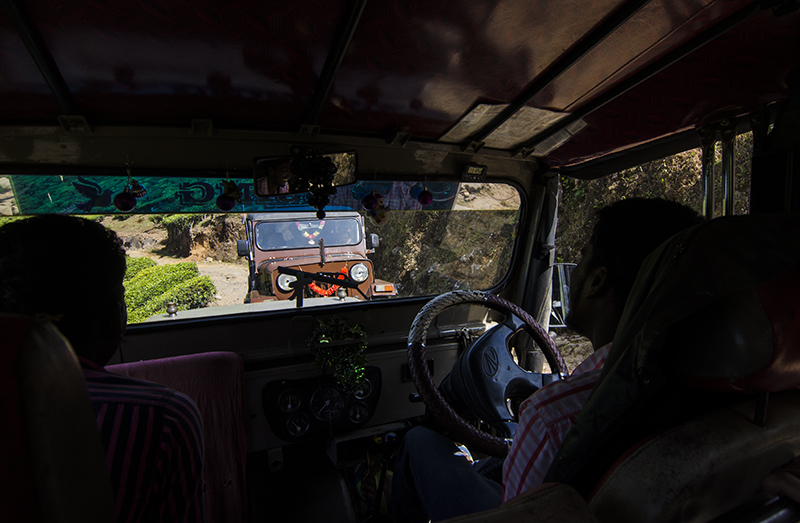 Raja refused and the other driver started shouting at him – we later came to know from Raja that he made a scene only because Raja wasn't having a driving license (which is the case with almost all drivers in that area) and they don't like each other. The other driver denied moving his jeep and got out. A couple of minutes later, he started abusing Raja and tried to hit him – but thankfully, he was withdrawn by the people around. Raja finally agreed to move back upon hearing multiple requests from the tourist group. He swiftly drove back in anger and gave way for the other jeep to drive away.
We returned to our room by around 12:00.
*****
Later in the afternoon, we took a bus to Munnar and after some shopping being done from Kanan Devan's Factory Outlet, we boarded a bus back home from the bus stand.
(Visited 963 times, 1 visits today)