---
The journey to witness a Sunrise at the highest tea plantations in the world, or rather, at an altitude of 7000ft. – that's what this trip was for. Yes, nothing else. Just. The. Sunrise.
Although it was planned earlier this year, due to climatic conditions, we decided to postpone it. But yet, for me, this was a shortly planned trip since I came to know about this plan from my friend Agni two days prior to the journey date; and that, through a random WhatsApp chat.
THE SLEEPLESS US.
The watch showed 1:15 when we started from Kochi. Within one hour, we passed Neryamangalam and proceeded to Adimali. It was misty and we found it hard to find a way through. But fortunately, it lasted only for a few minutes. Upon reaching Adimali by 3:00, we had a cup of black tea to keep ourselves awake throughout the night. Also, we played the song Akale from the movie Charlie in loop and sang it out loudly.
Agni drove well and safe. 45 minutes past, we reached Munnar town. We took the Devikulam – Chinnakanal route to reach Suryanelli on our scheduled time – 4:30 sharp. It was a clear and starry night. It was cold too, but not the biting one.
As planned and booked, John's jeep came to pick us. The road up to view point was good only for the first few meters. As we moved ahead through that private road, it began to get bumpy. And then, bumpier. Yet, I managed to catch a cat nap.
An hour past, we reached the view point. It was still dark and cold. We stopped at a point from where one could have a view of Kerala on the left and Tamilnadu on the right. Since we wanted to take long exposures, we thought of moving further to the nearby viewpoint.
Even though the Sun couldn't be seen, the sky had already started splashing both warm and cool hues.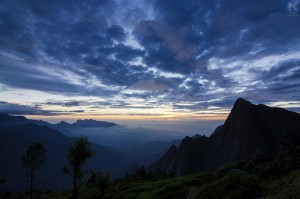 We got ready with the cameras and tripod to shoot the rising Sun. By 6:30, the splash of hues slowly gave way to a shining Sun who revealed himself from clouds; far away. The sky brimmed with colors and it kept changing hues as we took pictures and timelapse videos. Fog engulfed the mountains beneath us and it looked similar to heaven.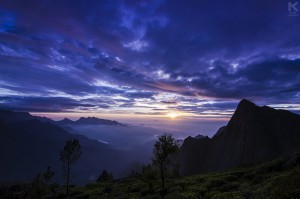 Within half an hour, the magic of golden hour starting fading. As the Sun rose up, tea leaves beneath us shined. The array of mountains were distinguished by the contrast of morning light.
By 7:40, we returned and the same one hour bumpy ride brought us back to where we parked our car.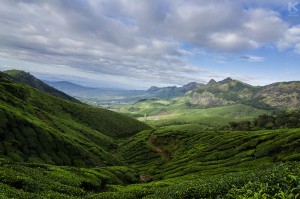 Post having breakfast, we rode back to reach Kochi by 14:30. Thus, an eventful Sunrise trip of 13 hours came to an end.
___
SOME USEFUL INFO
There is a summit by the view point which can be attained through a 2 hour trek. As the only plan we had was the Sunrise; and also since it rained last night, John advised to not go for it as the place will be full of leeches.
Since it was Sunday, we also missed an opportunity to visit the World's Highest Tea Factory.
(Visited 286 times, 1 visits today)